Editor's Note: The word, survival, takes on different definitions for various people, especially in these 2020 days of Covid-19. The cast net can be used to supply fish for food almost anywhere there's water containing fish. The cast net also can be used to build a survival income by catching fish in a cast net to eat or selling those fish to other people or catching bait for your fishing or selling that live bait to others.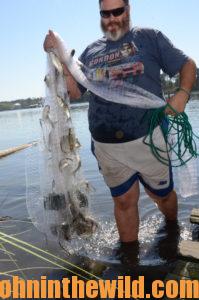 Steve Hesse, who owns Brunson Net and Supply Inc. (www.brunsonnets.com) in Foley, Alabama, is a third-generation net builder. "Today's cast nets are made from 6-8 panels of netting. We cut the panels out, sew them together with a shuttle (a needle) and tie together two- different panels of netting with double half-hitch knots. Then the shuttle goes through the next two loops on the next two panels, and we continue to sew and tie knots until all the panels are joined. We next affix a lead line to the bottom of the net, put the Braille lines in that run inside the net from the top (the horn or the yoke) to the bottom and attach the Braille lines to the lead line. The Braille lines will close the net as it's being pulled. We attach the hand line also to the horn (yoke).
"The net and the Braille lines are made of monofilament line that's clear, hard for the fish to spot, sinks fast and is low maintenance. Some nets are still crafted of nylon. Our company also repairs cast nets."
Go to: https://www.google.com/search?q=The+parts+of+a+cast+net+for+fishing&safe=active&tbm=isch&tbo=u&source=univ&sa=X&ved=0ahUKEwi0g-WOx-_SAhWEKiYKHed_A0cQsAQIJw&biw=1920&bih=916 to see pictures and drawings of various cast net parts. This YouTube video explains the parts of a cast net: https://www.youtube.com/watch?v=4PxrN-BXsmY.
"The wrist rope (hand line) of a cast net can be any length, but on the mullet nets our company builds, 25-30 feet of rope goes to the end of the net," Hesse explains. "An experienced net fisherman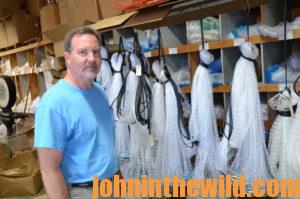 often can throw the net to the end of the line, but the beginner should learn to throw the net a comfortable distance high in the air to allow the net to stretch and open-up before it hits the water.
"Most everyone who fishes in salt water and brackish water usually has a cast net for catching bait and/or another net for catching mullet and other fish. The mullet nets are 8, 9, 10 or 12 feet in circumference, with the 8-footer the most popular. We have made a 14-foot cast net before. However, we usually recommend beginners start with an 8–10 foot net, since anyone with just a little practice can learn to throw these sizes of nets.
"To learn to throw a bait net or a mullet net, purchase a net, and practice throwing it in your backyard. Plenty of videos are on YouTube that show you different ways to throw a cast net. But if you know someone who throws a cast net and will teach you how, that's generally the quickest and easiest way to learn."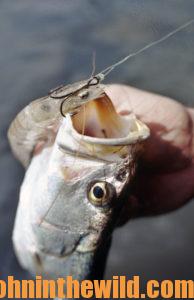 Hesse reports that a monofilament net lasts for 6-8 years, if you keep it out of direct sunlight and store it when not being used in a dry, shaded area. Some nylon nets may last for 20-30 years. If you use a nylon net, you must treat it every year or every other year with a PVC net dip that's like shellac or varnish. You put the nylon net in a bucket, let it soak for 1 hour or more completely submerged in the PVC net dip, remove it from the bucket and hang it so that it drip-dries.
A book Hesse recommends is "How to Make and Mend Cast Nets" by Tod Dahlem, https://www.amazon.com/How-Make-Mend-Cast-Nets/dp/0820006122/ref=sr_1_1?ie=UTF8&qid=1490373383&sr=8-1&keywords=How+to+Make+and+Mend+Castnets.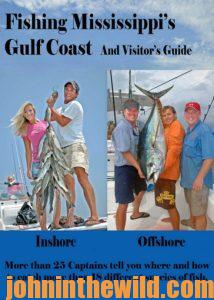 To learn more, check out John E. Phillips' book, "Fishing Mississippi's Gulf Coast and Visitors' Guide" at http://amzn.to/XkluEO
Tomorrow: The Cost of Cast Nets and Smoking the Mullet You Catch