Editor's Note: The word, survival, takes on different definitions for various people, especially in these 2020 days of Covid-19. The cast net can be used to supply fish for food almost anywhere there's water containing fish. The cast net also can be used to build a survival income by catching fish in a cast net to eat or selling those fish to other people or catching bait for your fishing or selling that live bait to others.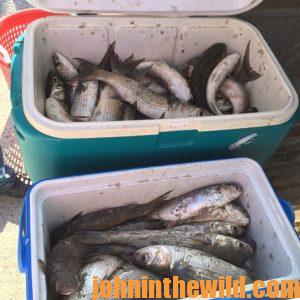 According to Steve Hesse, who's a third-generation cast net builder (see Day 2), a bait net, usually 3-5 feet in size, costs about $10 a foot. A mullet net that his company builds costs $17.50 a foot. So, an 8-foot mullet net will cost approximately $140, a 10-footer $175 and a 12 footer $192.
Keith Cheney Uses a Cast Net for Extra Income and Food:
Keith Cheney of Bon Secour, Alabama, on the Gulf of Mexico, has fished with a cast net for food and income for 31 years. "I started out as a child after buying a cast net and teaching myself how to throw it. Instead of putting the lead line in my mouth, I'll put the lead line and about 3 feet of the cast net over my left shoulder. I'll divide the remaining net in half, place half of the net in my left hand, while holding the other half of the net in my right hand. Because I'm right handed, I'll turn to my left, quickly turn back to my right, throw the net from my right hand into the air and let the net in my left hand flow out to near the end of my wrist rope. I've had friends who have had their teeth pulled out after putting the lead line in their mouths, so I don't."
While I watched, Cheney waded out into a small lagoon, made one cast and caught about 12 pounds of mullet and spots, a bait fish you could eat or use for bait. "I'll catch about 100 pounds of fish in 2 hours. I'll sell those fish for $100 to a lady who cuts them up for bait for anglers. I throw my cast net when I get off from work or on the weekends. That extra money helps support my family and enables me to catch mullet to eat."
Southern Smoked Mullet:
You can pan-fry mullet fillets, but smoked mullet is truly delicious.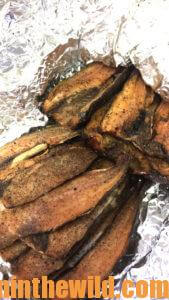 Ingredients:
5 pounds butterflied mullet fillets
1 gallon water
1 pound hickory branches or chips
2 quarts water
1 cup salt
Preparation:
* Make a brine solution by combining 1 gallon of water and kosher salt. Stir until the salt's dissolved. Place the fish in the brine, and let soak refrigerated for 1 hour. Remove the fish from the brine; rinse thoroughly and dry.
* Soak hickory chips in 2 quarts of water for several hours or overnight in a cool place.
* Use a hooded or a covered charcoal, electric or gas grill. The heat must be kept low. If using charcoal, fewer briquettes are necessary than for regular grilling. Cover charcoal or ceramic briquettes with approximately 1/3-wet chips to provide lower temperatures and create smoke to flavor the fish. The remaining chips should be added as needed throughout the cooking process.
* Place the butterflied fish fillets skin side down, on a well-greased grill approximately 4-6 inches from the smoking fire. Close the hood on the grill. Open vent slightly to keep smoke and air circulating. Smoke fish approximately 1 hour at 150 degrees to 175 degrees, or for about 30 to 45 minutes at 200 degrees. The fish is done when the cut surface is golden brown, and the flesh flakes easily when tested with a fork.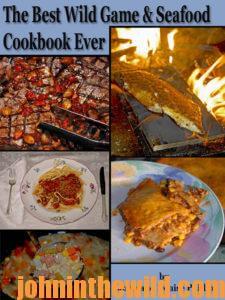 To learn more, check out John Phillips' book, "The Best Wild Game & Seafood Cookbook Ever: 350 Southern Recipes for Deer, Turkey, Fish, Seafood, Small Game and Birds" at http://amzn.to/WkbLRg.
Tomorrow: Gary Davis – a 50 Year Cast Net Veteran