Editor's Note: The word, survival, takes on different definitions for various people, especially in these 2020 days of Covid-19. The cast net can be used to supply fish for food almost anywhere there's water containing fish. The cast net also can be used to build a survival income by catching fish in a cast net to eat or selling those fish to other people or catching bait for your fishing or selling that live bait to others.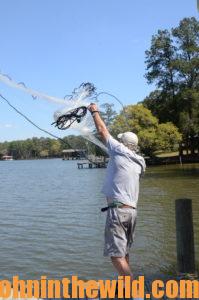 Gary Davis, an inshore fishing guide, lives on the Magnolia River that flows into the Gulf of Mexico, outside of Foley, Alabama, a little more than a stone's throw from Collins's Fish Camp (see Day 1). Fishing the river there since before he was 10-years old, Davis next learned to throw a cast net. "My daddy didn't fish or throw a cast net, so I taught myself how to do both. I throw my cast net by holding the lead line in my mouth. I can feel my net open better like this, as it travels through the air. I've learned how to open my mouth at just the right time to release the lead line, although I did chip some teeth while perfecting this tactic."
The cast net plays two major roles in the life of Gary Davis's family. He throws his net to catch mullet, once or twice a week, for his family to eat, and catches bait daily for his fishing clients. To catch mullet or bait, Davis usually sees them on the surface of the water or jumping or flipping before he makes a cast.
"I throw my cast net for mullet early in the morning, just as enough light is available to see, or late in the afternoon, just after the sun sets," Davis explains. "If the sun's out when the cast net's in the air, the net creates a dark cloud above the water. Mullet are fast enough that a majority of the schooling fish will swim out from under the net before it hits the water. However, by throwing the net early or late, the cast net doesn't make a shadow. On a good day, I can catch 8-12, 1-1/2 to 2-1/2 pound roe mullet in one throw."
But as an inshore fishing guide for spotted seatrout, redfish and flounder, Davis uses a smaller bait net to catch bait for himself and the parties he takes out fishing more than 200 days per year. "I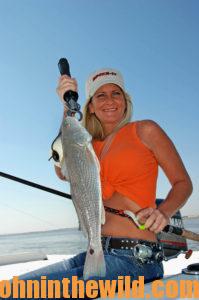 often will meet my customers before daylight to enable us to get to the reefs before the sun rises. Most bait shops aren't open then, and bait shops may run out of bait. However, by having a bait cast net, I can make one throw, catch shrimp, LYs (alewives), menhaden and croakers for bait, place them in my live well and have live bait to fish all day."
Davis began throwing a cast net at a time when the only ones he could buy were cotton. "A cotton cast net stays wet for a long time, you can't shake the water out of it after making a cast, you'll get wet when you put it on your shoulder, and cotton nets rot, often only lasting 2 years. The nylon and monofilament ones seem to almost last forever, if treated and stored properly. I personally prefer a monofilament cast net because once it comes out of the water, and you shake it, the net's dry. The fish you've caught come out of a monofilament net easier than they will a nylon or a cotton net."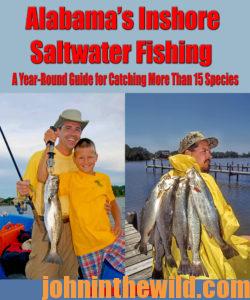 To learn more, check out John E. Phillips' book, "Alabama's Inshore Saltwater Fishing: A Year-Round Guide for Catching More Than 15 Species" at http://amzn.to/11dJhN7.
Tomorrow: The Cast Net Is the Ultimate Survival Tool for Freshwater and Saltwater Fishing