Editor's Note: If you've already got venison in your freezer left from last year, start thinking now about thawing it to prepare. And, if you take a deer this season, don't miss out on some of the most-delicious meals ever. Researchers have proved that venison, a heart-friendly meat, contains fewer calories than the same size serving of chicken or turkey and one-half the calories of ham or ground chuck. Venison also has more protein than freshwater or saltwater fish and one-tenth as many fat grams as ground chuck. A rich source of trace minerals, including calcium, magnesium, zinc, potassium, phosphorus and iron, venison has a cholesterol content comparable to chicken and turkey. Through the past 50+ years, our family has eaten venison and found the best recipes.
The Cabela's Catalogue (http://www.cabelas.com) offers numerous items for the do-it-yourself venison butcher. If you live somewhere that you can't find the items you need for butchering venison, then you can see these online or in a catalogue. Cabela's 18-inch Butcher Saw features replaceable, corrosion-resistant stainless steel blades with 9 precision-sharpened teeth per inch to cut through bone or frozen meat like butter. An Ergonomic handle provides a comfortable grip and optimal control. Heavy-duty stainless installing or removing the blade quick and easy
Cabela's offers three styles of manually-operated, heavy-duty, cast-iron meat grinders that feature double-tin plating to resist stains and corrosion. The No. 10 meat grinder grinds 2 to 3 pounds of meat per minute, the No. 22 grinds 3 to 4 pounds of meat per minute, and the No. 32 grinds 5 pounds of meat per minute. These meat grinders each contain a knife, two grinding plates and a sausage-stuffer tube. If you butcher more than one deer each year, you'll enjoy the convenience of Cabela's Commercial-Grade Electric Grinders. Built to handle large quantities of meat, these electric grinders feature large-capacity meat trays with enlarged throats to ensure optimal performance, maintenance-free, sealed, lubricated, air-cooled motors, sausage-stuffing tubes, massive AISI 1045 steel gears, a patented head design that increases meat-grinding capacity and stainless-steel necks, augers, blade, plates and trays. Each grinder, available in 1/2-hp, 1 hp, 1-1/2-hp and 1-3/4-hp, comes with a grinder dust cover to protect it and keep it clean. You may want to consider buying a quality electric meat grinder with some friends or members of your hunting club. My family enjoys getting together with friends and having a venison-grinding party.
The Outdoor Edge Game Processor (https://www.outdooredge.com/) has a design that will let you care for and prepare your game easily in the field. This kit includes a 3-inch caping knife, a 4-inch skinner, a 5-1/2-inch boning/filet knife, an 8-inch Bowie-style butcher knife, a 10-inch double-ground wood/bone saw, a 5-1/4-inch carving fork, heavy-duty game shears, a 10" x 14" cutting board, three pairs of surgical gloves and a tungsten carbide V-style knife sharpener as well as the new Outdoor Edge Steel Stick Spreader to keep the body cavity of any medium to large-sized big game open for easy field dressing.
Moultrie Feeders has introduced a Gambrel/scale for ease of handling your deer – the 440-Pound Big Game Scale. This scale allows you to accurately weigh white-tailed deer and other game animals and features a large, easy-to-read dial, an all-steel frame construction and two steel S-hooks for quick attachment to the hoist and gambrel system. To learn more about this product, visit: http://www.moultriefeeders.com
Venison Taco Soup
You can prepare this hot and hearty soup and cook it on the stovetop or put it in a crockpot for slow cooking.
Ingredients:
1 pound ground venison
1 large onion, chopped, or 1 seasoning package of frozen onions, bell peppers and celery
3 (15-1/2-ounce) cans Mexican-style chili beans
1 (15-1/4-ounce) can whole kernel corn, undrained
1 (15-ounce) can tomato sauce
1 (14-1/2-ounce) can diced tomatoes, undrained (we like Rotel for a spicier flavor)
1 (4.5-ounce) can chopped green chilies
1 (1-1/4-ounce) envelope taco seasoning mix
1 (1-ounce) envelope dry Ranch Style Buttermilk Dressing mix (we prefer Fiesta Ranch but generally you can't find it anywhere but at Wal-Mart)
1-1/2-cups water
Toppings: corn chips, shredded lettuce, chopped tomato, sour cream, shredded Mexican cheese
Preparation:
Brown venison and onion or seasoning package in a Dutch oven over medium-high heat. Drain on paper towels. Stir beans and the rest of the ingredients into the beef mixture. Bring to a boil. Reduce heat, and simmer, uncovered 15 minutes, stirring occasionally. Spoon soup into bowls, and let everyone choose their toppings. We enjoy browning the venison and onion and draining it on paper towels. Then we place all the ingredients in a crockpot and cook on low all day.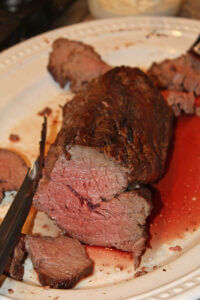 Mr. Miller's Venison Roast
Hands-down this recipe from Alabama's Westervelt Lodge has been one of our family's favorites for more than 35 years and is delicious served as an appetizer or as a main dish.
Ingredients:
1 (3-4 pound) venison roast with all white connective tissue cut off
1 cup water
1 package dry onion soup mix
5 pieces of bacon (optional)
Preparation: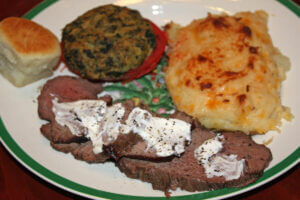 Soak the venison roast in salted water for 24 hours in the refrigerator. Wash all the salt off. Make a paste of the dry onion soup mix and some water, and rub all over the roast. Crisscross with bacon slices held in place by toothpicks. Place 1 cup water in roasting pan. Cook at 250 degrees in oven, covered, for about 4 hours or until tender. Or, crisscross with bacon slices, and place in a smoker for 8 hours.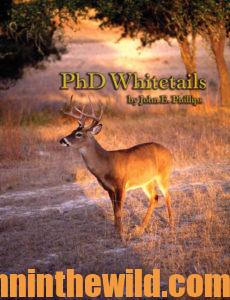 To learn more about hunting for deer, check out John E. Phillips' book, "PhD Whitetails: How to Hunt and Take the Smartest Deer on Any Property," available in Kindle and print at http://amzn.to/WIEUoo  and Audible at https://www.audible.com/ and "13 Breakfast Recipes You Can't Live Without," available in Kindle at http://amzn.to/18nOTaY. You may have to copy and paste this link into your browser. (When you click on this book, notice on the left where Amazon says you can read 10% of the book for free and hear 10% for free). On the right side of the page and below the offer for a free Audible trial, you can click on Buy the Audible book. To see more of John's deer hunting books, visit http://www.amazon.com/author/johnephillips.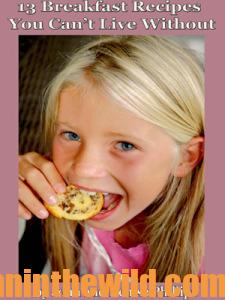 Tomorrow: Preparation of Deer Meat for Cooking