Editor's Note: Will Primos, the creator of Primos Hunting (www.primos.com) and well-known turkey and deer hunter has been hunting white-tailed deer for about six decades. He's made 100 videos on hunting and has produced about 500 TV show episodes – all named "The Truth."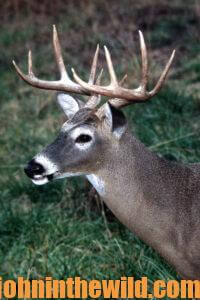 There have been some bucks that I've hunted really hard, but never have learned how to take. Big 10 was a buck that I never could get close enough to take a shot with a bow. I would get pictures of him on cameras at night, so we knew exactly where he was living. I hunted him from when he was 4-1/2 years old until he was 7-1/2. Finally, I gave Big 10 to a friend named Brad Ferris to hunt with a gun.
Later Brad saw Big 10 go across a grass field and down a steep drop to the side of a riverbank right at daylight. The next morning, Brad got into a huge observation tower with a cameraman, and they spotted Big 10 coming across the grass field. He shot Big 10 with a rifle at 200 yards. That deer was 7-1/2 years old and had learned that there was no hunting pressure out in that grassy field at daylight. He could go straight off the edge of the bank down to a little dry spot on the edge of the river and stay there all day, and no one would be able to find him.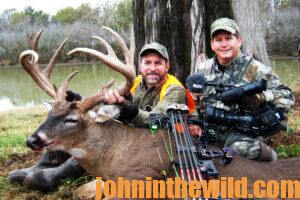 The other big deer that I remember is a deer we named Eric. We hunted him for several years, and then he seemed to vanish. We couldn't find him. During the summer, we got a trail-camera picture of Eric at a salt lick when he was 4-1/2 years old. But we didn't put out enough trail camera photos to learn what route he was taking to reach the salt lick. So, I didn't hunt him until I knew the prerut was starting. I thought if I saw him, we might get lucky and be close enough to get a shot.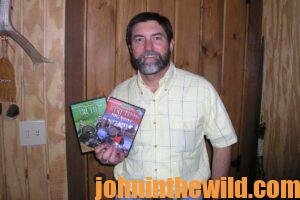 Luckily, I had a very-perceptive cameraman the day I finally hunted Eric, Johnny St. Clair. Johnny saw the deer walk close to our stand, but even though we had the wind in our favor, the buck looked as though he'd smelled something – maybe another deer. But he smelled something that he didn't like. I knew it wasn't us because we were downwind of him. Johnny whispered, "Call to him."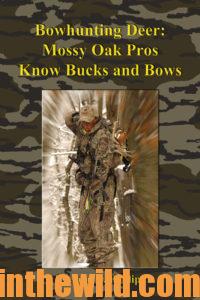 I used the Primos Can Call, which is a bleat call. Then I grunted and wheezed. Within one or two minutes, the buck walked back to within about 22 yards and started licking his nose to try to pick up the smell of the deer he'd heard calling to him. He turned broadside and walked, so I "manked" him, which is a kind of bleat, and the buck stopped. He was quartering to me. I had to shoot in front of his shoulder, to ensure the arrow would come out behind the offside shoulder after passing through the lung and heart areas. The buck only went about 45 or 50 yards, before he piled-up. That buck grossed 182 inches. To see this hunt, go to https://www.youtube.com/watch?v=Z4ipFN_y0io.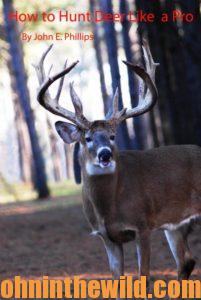 To learn more about hunting deer, check out John E. Phillips' brand-new Audible book, available August 2, 2022, and now in Kindle, print and Audible versions, "Bowhunting Deer: Mossy Oak Pros Know Bucks and Bows" at https://www.amazon.com/. For more information on hunting deer, look at John's book, "Hunt Deer Like a Pro" (http://amzn.to/YpoQHA), available in Kindle, Audible and print. You may have to copy and paste these links into your browser. (When you click on either book, notice on the left where Amazon says you can read and hear 10% of the books for free.) On the right side of the page and below the offer for a free Audible trial, you can click on Buy the Audible book.
Tomorrow: Learn Will Primos' Best Deer Hunting Tips