John's Note: The origins of Blue Bank Resort in Hornbeak, Tennessee, near Tiptonville (www.bluebankresort.com, http://www.facebook.com/blueBankResort, 877-258-3226) started in the early 1900s when today's owner's grandmother, Kohoma Hayes, owned and operated the Reelfoot Hotel. Through the years the motel, the restaurant and the guiding business have gone through several transitions, but always with the Hayes family still owning Blue Bank Resort. Then newly-renovated motel also features a 13-man hot tub and a big swimming pool, besides a restaurant featuring delicious food that draws customers from miles around. Blue Bank Resort offers guides for all types of fishing and duck and goose hunting, as well as eagle viewing.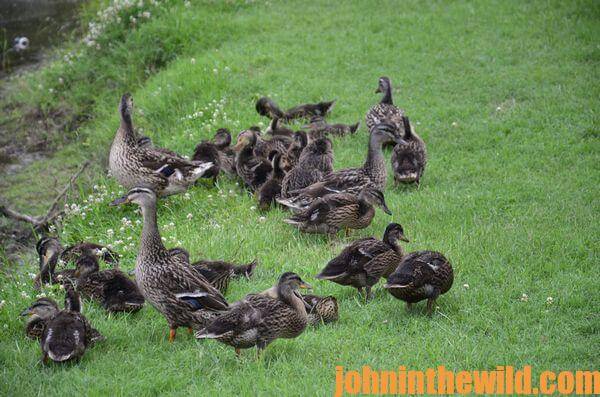 A family fishing trip often can be about more than just catching fish.
Spending all day in a boat – even one as comfortable as a War Eagle – can be a little much for a novice fisherman. So, when we came in to eat lunch at Blue Bank Resort, Conner Hudson, my 13-year-old grandson, found all types of adventure on the shore, including three hen mallards with what looked like to be 50 baby ducks. Although these are wild mallard ducks, they won't realize they're wild until hunting season comes in, because they've found a buffet waiting for them at Blue Bank Resort. Conner found a sack full of corn and a big Styrofoam coffee cup. He learned that if he started throwing the corn near the baby ducks, they would come running to him to get the corn. As he continued to put corn out for the baby ducks, they came closer and closer and closer. Finally, the ducks came close enough to eat the corn out of his hand.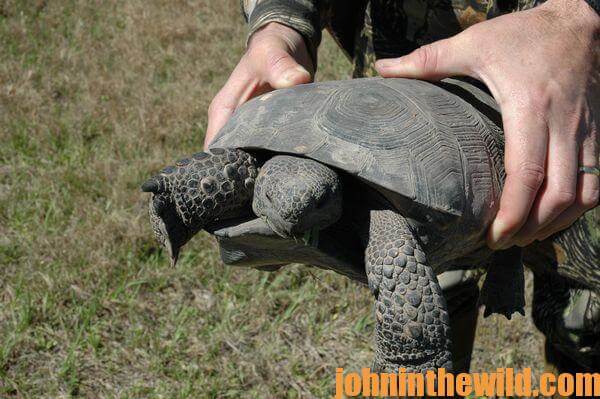 Every time we tied up at Blue Bank Resort, Conner immediately hit the ground and headed for the cup and that bag of corn. By the time he'd made about four steps toward the corn, either Blakely or I would say, "Conner, you have to help unload the boat first." You could see him stop and turn – just like the first time a young colt had bits put in its mouth, and they were tugged on by the rider. However, he cheerfully helped unload the War Eagle boat as quickly as possible. He knew the corn and the baby ducks would be waiting for him as soon as he got all the gear unloaded.
One day when we went in for lunch, as he got off the boat, Conner asked, "Pop, do you hear that?" I asked, "Hear what?" He said, "I hear a kitten." But the small cat was nowhere to be seen. One of the guides said, "I found a kitten out in the middle of the lake in one of those cypress trees that's out in open water. So, I brought her in and turned her loose." Well, that's all Conner needed to hear. He climbed down off the dock, went under the dock, located the little kitten and began to dry it off and pet it. At lunch, he took leftover fried catfish, potatoes and chicken tenders (I'm sure he left one chicken tender on his plate to make sure he had food to give to the kitten), put the food in the fold of his shirt and carried it out to feed the cat. When the kitten was full and retreated, Conner found a new target for his attention – a baby turtle. This small silver-dollar-size green turtle climbed out on a cypress knee – just a little out of reach from the dock. Although Conner made several attempts to catch the turtle, the turtle was always faster at escaping than Conner was at grabbing the turtle.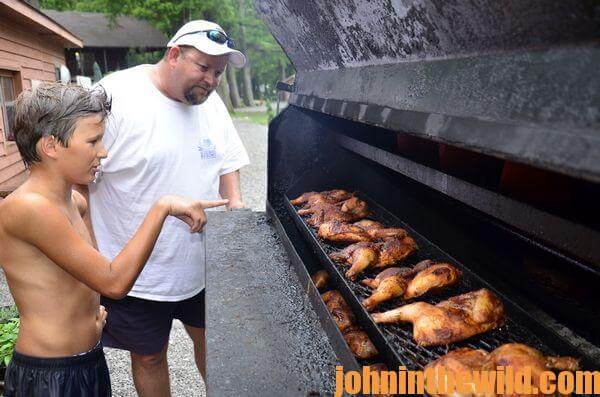 Right after lunch, Conner went in the gift shop. Conner told me, "Pop, I want to buy my three sisters a present to take home with me. I have my own money. Can I buy them some presents?" I smiled and said, "Sure you can, Conner, but let's wait until we get ready to leave before you buy them. That way, you won't have to keep up with the presents." So, he spent about 45 minutes trying to decide what he should buy for his three sisters – Abbey and Amy 10-year-old twins) and Cameron (his twin sister).
When you take children fishing, I think letting them find and discover the activities that are fun for them is important – even if that means letting them feed baby ducks, rescue kittens under the dock and shop for souvenirs for their brothers and sisters. One of the most difficult things for avid anglers to remember is a youngster's fishing trip is about the child enjoying the trip – even if that's not running all over the lake in a War Eagle boat and chasing all kind of fish all day, every day. Even though the fish were biting, and Conner and I had a good time catching them, but more than likely, the things he'll remember most are the baby kitten, the baby ducks and trying to catch the turtle. That's okay as long as he remembers that he was with his Pop.
To get John E. Phillips' Kindle eBook "Reelfoot Lake: How to Fish for Crappie, Bass, Bluegills and Catfish & Hunt for Ducks" click here to get these books.
For a print version of "Reelfoot Lake: How to Fish for Crappie, Bass, Bluegills and Catfish & Hunt for Ducks" go to www.bluebankresort.com, or call 877-258-3226.
Share this page with a friend!
About the Author
John Phillips, winner of the 2012 Homer Circle Fishing Award for outstanding fishing writer by the American Sportfishing Association (ASA) and the Professional Outdoor Media Association (POMA), the 2008 Crossbow Communicator of the year and the 2007 Legendary Communicator chosen for induction into the National Fresh Water Hall of Fame, is a freelance writer (over 6,000 magazine articles for about 100 magazines and several thousand newspaper columns published), magazine editor, photographer for print media as well as industry catalogues (over 25,000 photos published), lecturer, outdoor consultant, marketing consultant, book author and daily internet content provider with an overview of the outdoors. Click here for more information and a list of all the books available from John E. Phillips.