John's Note: The origins of Blue Bank Resort in Hornbeak, Tennessee, near Tiptonville (www.bluebankresort.com, http://www.facebook.com/blueBankResort, 877-258-3226) started in the early 1900s when today's owner's grandmother, Kohoma Hayes, owned and operated the Reelfoot Hotel. Through the years the motel, the restaurant and the guiding business have gone through several transitions, but always with the Hayes family still owning Blue Bank Resort. Then newly-renovated motel also features a 13-man hot tub and a big swimming pool, besides a restaurant featuring delicious food that draws customers from miles around. Blue Bank Resort offers guides for all types of fishing and duck and goose hunting, as well as eagle viewing.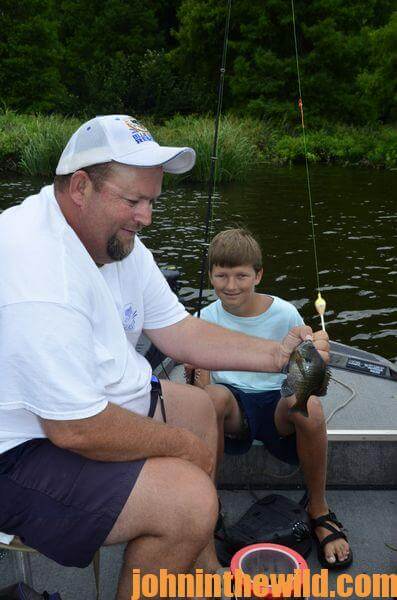 If you don't set the hook when I tell you to, I'm going to reach over there and put a knot on your head," Billy Blakely, the chief guide at Blue Bank Resort www.bluebankresort.com, 877-258-3226) on Reelfoot Lake in northwestern Tennessee, told my 13-year-old grandson, Conner Hudson of Birmingham, Alabama, who was laughing as though he thought Blakely was kidding, but not certain he was. The next time Conner got a bite, he nearly threw himself out of the seat trying to set the hook on the bluegill that just had attacked the cricket.
As I sat in the back of the boat watching the show between Blakely and Conner, I smiled and chuckled inside. How many times had my dad told me the same thing? I remembered how I'd learned to set the hook properly when any fish took the bait. I recalled one day when my dad was fly-fishing, and I was paddling an old wooden boat. A big bass rolled up on Pop's fly. But because he was a little late setting the hook, he missed the bass. Of course, in good-hearted fun, I told him, "I can't believe you missed that bass. He was all over your fly. I think you watched him go under the water before you tried to set the hook to make sure you wouldn't miss him."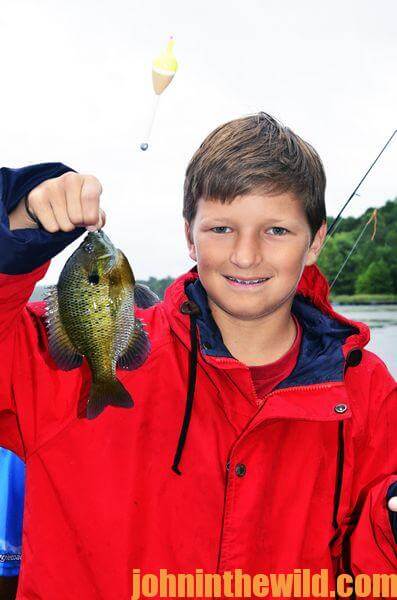 My father was serious about his fly-fishing for bass. He gave me a stern look and said, "I guarantee I won't miss the next bass that attacks that bug." With the mastery of a seasoned veteran, I watched my father bring the tip of the fly rod up at a fairly-rapid pace, causing the fly line to spring out of the water and put on an aerial ballet of rhythm and power. As the popping bug almost reached the end of the line, my dad brought the rod forward, making a giant S in the air, and laid that popping bug in a relatively small hole in the grass. He gently twitched the bug twice, and the water erupted. With all the power and fury that Pop had in his arms, back and legs, he delivered enough force to the bug on the end of the line to catapult the 1/4-pound largemouth bass high out of the water. It was heading straight over the gunwales of the boat about 5-feet higher than the boat. Dad delivered so much force on his backstroke that he actually threw himself out of the boat. He was completely submerged with only the tip of his fly rod above the surface and his straw hat sitting on top of the water. Tears came in my eyes as I laughed so hard and uncontrollably that I never saw Pop put the rod back in the boat. However, I did watch him crawl back into the boat soaking wet. Once he had his feet under him and his rod in his hand, he pulled up the small bass and announced, "Now, Son, that's the way you're supposed to set the hook."
This fishing event happened more than 50-years ago. But this past week, when I took Conner to fish with Billy Blakely, and I heard those words, "Boy, you better set that hook hard on that bass, or I'm going to put a lump on your head," I could see my dad throwing himself out of the boat as the little bass was not only hooked, but shot out of the water like a missile.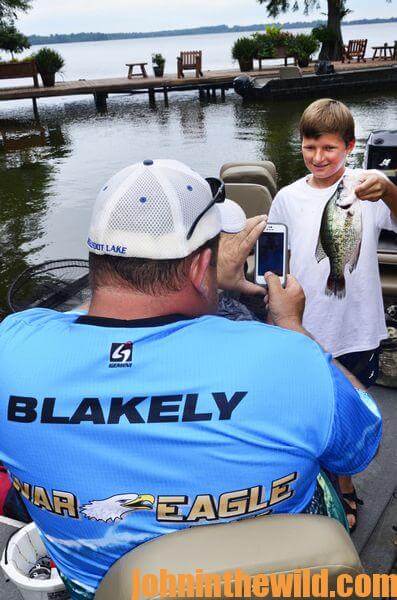 A trip to Blue Bank is about many things – fishing, hunting and being with friends and family. And as I watched my grandson learn all the secrets of catching bluegills as taught by master Billy Blakely, I remembered the many lessons I had to learn when I was Conner's age. Most of the real lessons that I've learned in life, I've learned in a fishing boat with my dad, who was a master fisherman. When I had the opportunity to take Conner to Reelfoot, I wanted him to have an opportunity to fish with a master fisherman like Billy Blakely.
Several of the items you always need to have when you take a youngster fishing include snacks, water, cold drinks, rain suits, sun screen, plenty of camera gear to capture the memories and a happy attitude to make the whole adventure a fun trip to remember. Also you need a stable dependable boat like the War Eagle 2170 Black Hawk that Blakely uses. And, to make a fishing buddy for a lifetime, the youngster has to catch fish too. The size of the fish isn't nearly as important as the number of fish caught. That's the reason I told Blakely, "I want to try and keep Conner's rod bent all day long," and why bluegill fishing was high on the list of priorities.
Blakely asked, "Conner, do you see those bubbles on the surface – the kind that sort of stick together and look like a glob of bubbles?" Blakely said. "Like those right there?" Conner asked, as he pointed at some small bubbles coming-up from the bottom that seemed to foam on the surface. Blakely smiled and said, "That s right. Those bubbles are where the bluegills are fanning their beds underwater. As they fan their beds where they lay their eggs, those bubbles come to the surface. I come out here on the lake in the middle of the summer when there's no wind, and the weather's really hot and look for those types of bubbles. The bluegills will bed off and on all summer long. Once you locate those beds, you can catch bluegills on those places all summer."
Blakely was not only teaching young Conner how to set the hook but also teaching Conner how to find bluegill beds and how to catch these fish. "Conner, don't throw so close to the bank," Blakely instructed. "That's where everyone else fishes for bluegills. We want to fish 10-30 yards away from the bank – where most people have their boats sitting, while they're fishing close to the bank to catch bluegills. But the bigger bluegills are holding in the deeper water, often right under people's boats. So, we want to back away from the bank and fish the deeper water where most other bluegill fishermen don't fish. Then, we'll be able to catch those big bluegills that the other fishermen don't catch."
This recent trip to Reelfoot Lake and Blue Bank Resort was an opportunity for me to reconnect with the memories of the days when I was Conner's age, and my dad took me fishing.
To get John E. Phillips' Kindle eBook "Reelfoot Lake: How to Fish for Crappie, Bass, Bluegills and Catfish & Hunt for Ducks" click here to get these books.
For a print version of "Reelfoot Lake: How to Fish for Crappie, Bass, Bluegills and Catfish & Hunt for Ducks" go to www.bluebankresort.com, or call 877-258-3226.
Share this page with a friend!
About the Author
John Phillips, winner of the 2012 Homer Circle Fishing Award for outstanding fishing writer by the American Sportfishing Association (ASA) and the Professional Outdoor Media Association (POMA), the 2008 Crossbow Communicator of the year and the 2007 Legendary Communicator chosen for induction into the National Fresh Water Hall of Fame, is a freelance writer (over 6,000 magazine articles for about 100 magazines and several thousand newspaper columns published), magazine editor, photographer for print media as well as industry catalogues (over 25,000 photos published), lecturer, outdoor consultant, marketing consultant, book author and daily internet content provider with an overview of the outdoors. Click here for more information and a list of all the books available from John E. Phillips.