John's Note: The origins of Blue Bank Resort in Hornbeak, Tennessee, near Tiptonville www.bluebankresort.com, http://www.facebook.com/blueBankResort, 877-258-3226) started in the early 1900s when today's owner's grandmother, Kohoma Hayes, owned and operated the Reelfoot Hotel. Through the years the motel, the restaurant and the guiding business have gone through several transitions, but always with the Hayes family still owning Blue Bank Resort. Then newly-renovated motel also features a 13-man hot tub and a big swimming pool, besides a restaurant featuring delicious food that draws customers from miles around. Blue Bank Resort offers guides for all types of fishing and duck and goose hunting, as well as eagle viewing.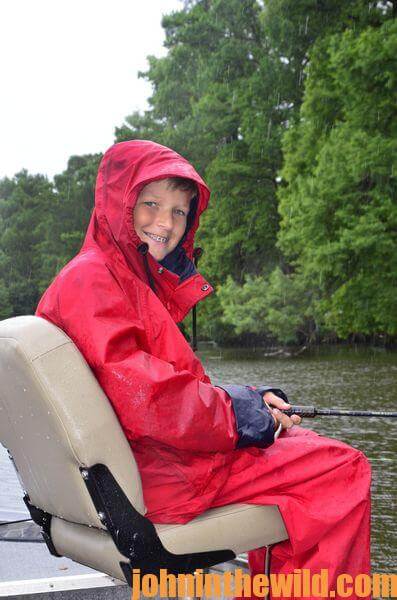 When you go out on the water to fish with family and friends, your first concern should be safety.
War Eagle builds one of the safest boats on the market today. Teaching your family how to deal with inclement weather, fishing in inclement weather, and still having fun is a great lesson to share with young fishing partners. I asked my 13-year-old grandson, Conner Hudson of Birmingham, "Do you have a rain suit?" He answered, "I've got a poncho. I'll be fine." Knowing that Conner probably wouldn't have the appropriate rain gear, I had packed a bright red rain suit in with my rain gear to take with us for him.
When we went to Reelfoot Lake and stayed at the newly-renovated Blue Bank Resort on the last day morning of our trip, the sky was looking gray. We knew there might be some bad weather rolling in, but there was no way we weren't going to fish that last morning. So, when we left Blue Bank Resort with Billy Blakely our guide, I also packed a couple of rain suits in with all the other gear we had.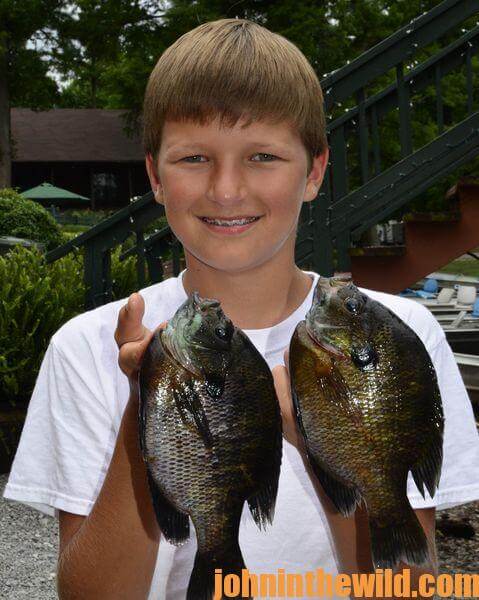 As we started across Reelfoot Lake, Conner was dressed in shorts and a t-shirt. Soon his smiling face asked, "Pop, do you have an extra rain jacket?" I pointed to the bag with our rain gear. Conner got the bag and pulled out a red rain jacket. The rain was only coming down lightly when I noticed Billy Blakely, who said as he put on his rain suit pants, "This is the kind of rain that you say to yourself it's not raining hard enough to put on my rain suit. But within about 20 minutes, often you're soaking wet." I agreed and told Conner, "I'm not kidding. Put on your rain pants, and zip up your rain jacket." Conner looked up and said, "Pop, these pants are way too long and big for me." I smiled and said, "Watch this." I pulled the pants up to right under his armpits. Then, I pulled the draw string that held the pants tight, tied them off, smiled and said. "Now they're a perfect fit." I'm fairly sure Conner never had fished in the pouring rain before. But as long as he was catching those bluegills, the rain didn't matter.
When the time arrived to go in for lunch, once again, Conner was feeding the ducks and trying to catch turtles. Just before lunchtime, he succeeded in catching two turtles – one about the size of a half dollar and the other about the size of a quarter. He had gone into the resort and talked the kitchen help into giving him a to-go box, and put the turtles, some water and some grass in it. When I asked, "What are you going to do with those turtles? Conner smiled and said, "I'm going to take them home and give them to my sisters. I know they'd rather have the turtles than any other kind of surprise."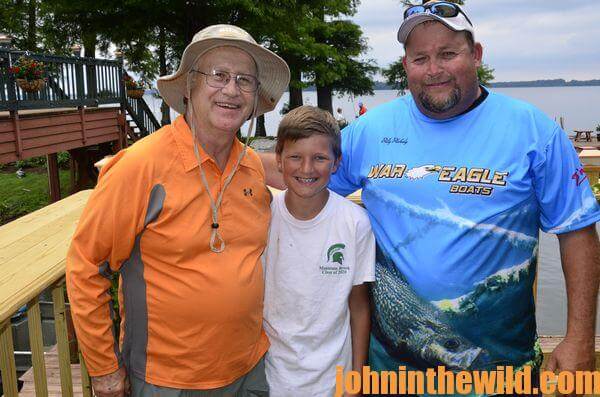 In 2 days at Reelfoot Lake, Conner and I caught over 60 bluegills, more than 10 catfish, seven bass and two turtles. Conner also rescued a kitten and fed baby ducks. Life doesn't get much better than this, and a War Eagle boat ran through it all.
To get John E. Phillips' Kindle eBook "Reelfoot Lake: How to Fish for Crappie, Bass, Bluegills and Catfish & Hunt for Ducks" Click here
For a print version of "Reelfoot Lake: How to Fish for Crappie, Bass, Bluegills and Catfish & Hunt for Ducks" go to www.bluebankresort.com, or call 877-258-3226.
Share this page with a friend!
About the Author
John Phillips, winner of the 2012 Homer Circle Fishing Award for outstanding fishing writer by the American Sportfishing Association (ASA) and the Professional Outdoor Media Association (POMA), the 2008 Crossbow Communicator of the year and the 2007 Legendary Communicator chosen for induction into the National Fresh Water Hall of Fame, is a freelance writer (over 6,000 magazine articles for about 100 magazines and several thousand newspaper columns published), magazine editor, photographer for print media as well as industry catalogues (over 25,000 photos published), lecturer, outdoor consultant, marketing consultant, book author and daily internet content provider with an overview of the outdoors. Click here for more information and a list of all the books available from John E. Phillips.