John's Note: Many people who hunt also fish, and many people who fish also hunt. One sport combines both these two sports – bowfishing. Bowfishermen hunt shallow water flats by day and by night and harvest the rough fish that often overpopulate a lake. This group of sportsmen are rarely seen, although many walk or wade shallow flats and shoot buffalo, carp, gar and occasionally catfish. Bowfishing enthusiasts rig their boats out with shooting platforms, extremely-bright lights and generators to light up the bottom to be able to see and harvest the fish. At the end of April, 2015, I was invited to the 16th Annual Muzzy Classic Bowfishing Tournament that drew a record-breaking number of 84 teams from all over the country to compete for a $10,000 first-place prize. A bowfishing tournament is more than a contest between archers and rough fish but also includes stories, experiences and lessons learned.
Stan and Heather Bryant: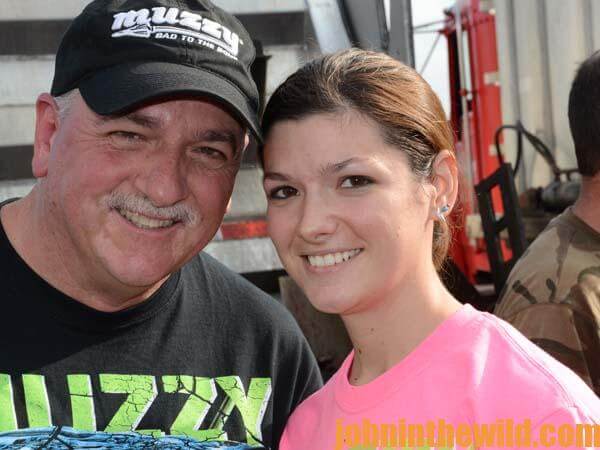 Stan and Heather Bryant make up the Black Saber bowfishing team. "I started bowfishing as a youngster more than 20+ years ago," Stan Bryant explains. "I'd walk down the banks of a creek and shoot carp, buffalo and alligator gar that I spotted in shallow water." Stan and his daughter were the 83rd team to register for the 16th Annual Classic with bad weather threatening and rain clouds building. At the last minute Stan and Heather decided to enter the tournament with their 15-foot boat rigged out with lights. Stan shoots a Bear bow, and Heather shoots a Cajun Sucker Punch.
According to Heather, "My dad took me bowfishing one night, and I fell in love with the sport. I always get a huge adrenaline rush, and bowfishing is exciting and fun." When asked how often she and her dad went bowfishing together, Heather smiled and said, "Not near enough. I just graduated from college in 2015. I was never really interested in hunting at first. Then at Thanksgiving one year, I picked up a gun and went target shooting with my dad. I was able to hit a target every time I shot. I asked Dad to take me hunting for deer, ducks and turkeys and jumped into hunting with both feet. I'd never tried shooting a bow, because I didn't think I'd be able to shoot the bow very well. But when we started bowfishing, I learned I could shoot better than I thought. I like the fact that I can harvest fish with my bow and fell in love with hunting and bowfishing."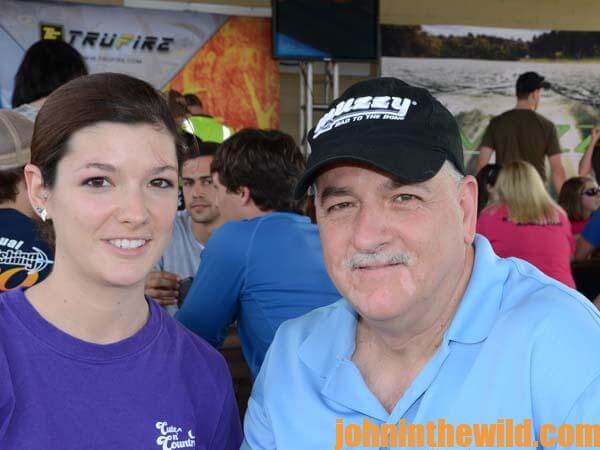 Heather's brother, Jeremy, is 2-years older than her, and he was the child who always went hunting with his dad. "Two years ago when Heather said she wanted to go out and shoot guns with me, I was thrilled," Stan Bryant says. "I never imagined that Heather had any interest at all in hunting or fishing, and she was a real good shot." Heather mentions, "Before I didn't understand how if I loved animals that I could kill them. I wasn't opposed to other people shooting animals, I just thought that was something I couldn't do. However, I finally came to the realization that if you use the animals you take by hunting and fishing, then there's nothing wrong with the sport." Both Heather and Stan agree that they want to spend more time with each other hunting and fishing now, and that these sports have enabled them to do that. Heather enjoys being with her dad and sharing memories of great bowfishing trips, as well as hunting trips in the fall and winter months. There's a special bond between a father and his children when hunting and fishing together that's reflected by the smiles on their faces when they're outdoors.
Ryan and Connor Edwards
Bowfishermen come in all shapes, sizes, ages and sexes. One of the competitors at this year's Muzzy Bowfishing Classic was 9-year-old Connor Edwards from Cedar Hill, Tennessee, about 30 miles from Nashville, who took a state record Asian carp weighing 36.920 pounds. He'd set a Tennessee record on a bowfishing trip before he came to compete in the Muzzy Classic with his dad Ryan Edwards on their team, Shallow Alarm Bowfishing.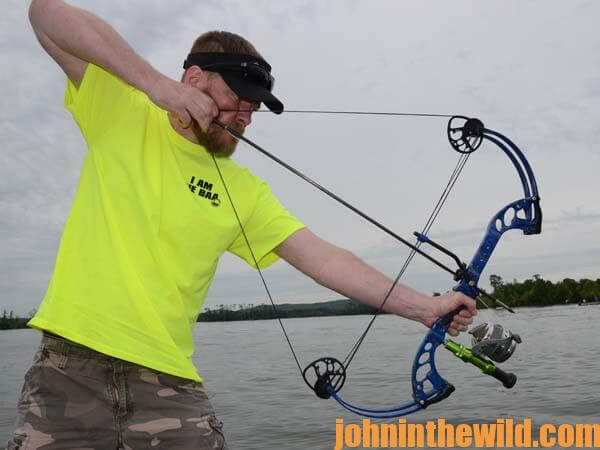 "I shoot a Mission Craze bow, and I pull about 40 pounds," Connor told me. According to Connor's dad, "Connor's been shooting bowfish for about 3 years. He always wanted to do what I did, but at 6-years old, he wasn't strong enough to pull a bow back and actually be able to shoot fish. He began to practice shooting in the winter months to build-up his strength, and we increased the weight to build-up his muscles." Connor became so proficient in shooting the bow that his dad permitted him to join the Shallow Alarm Bowfishing team, where he runs the chart plotter, operates the boat and shoots fish just like the other members of the team, his dad and Will Brooks. However, Connor's dad mentions that, "If the fishing's slow, Connor may take an hour nap in middle of the night, but if we're taking lot of fish, he won't sleep. He'll fish all night long."
The Shallow Alarm Bowfishing team has been fishing and competing for the last 5 years. Ryan Edwards explains, "At night you see more fish than in the daytime and more wildlife. And, while everyone else is looking at the top of the lake, we're looking at the bottom of it." Just because Connor is Ryan Edwards' son doesn't mean he automatically got to join the team. He worked hard to learn to run the chart record to be on bowfishing team. "For about a year, Connor learned all he could to be able to join our team, and now he travels with us to all the bowfishing competitions we enter all over the country," Edwards says. Will Brooks is Ryan Edwards' cousin, and they've been hunting and fishing buddies "forever."
To learn more about bowfishing, go to our series of videos called, "Bowfishing 101."
To get John's latest cookbooks, "The Crappie Catcher's Cookbook" and "The Catfish Catcher's Cookbook" for free, click here. To see all of John's available print and eBooks, click here.
Next: New World's Record Set by Alabama Bowfisherman Bryan Hughes