John's Note: Tommy Woods of the Thrills and Kills Outdoors team, won the World Champion Bowfishing tournament in 2008, 2012 and 2014 and the Muzzy Classics in 2012 and in 2015.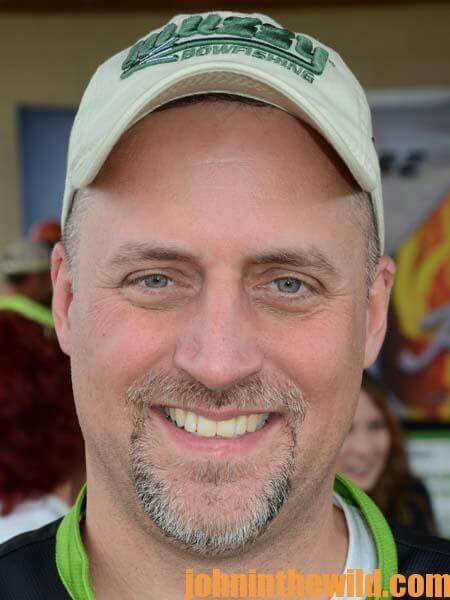 At the 16th Muzzy Bowfishing Championship Classic, our biggest fish weighed 70.9 pounds and was a giant grass carp. We weren't expecting to find a grass carp this big. This fish wasn't in any of the places that we'd scouted and expected to take fish but just showed up. As soon as I saw the fish I said, "Over there," drew my bow and shot the fish. Everybody on the boat went berserk. I had a lighted nock on my arrow, and as the line jumped out of my reel, I could see that lighted nock underwater and moving out to deep water. My teammates turned the boat toward the fish, and we got two more arrows into him. We fought the fish for about 15 minutes before we got it into the boat.
We also took some buffalos that weighed right at 30 pounds each. Our top 20 fish weighed a total of 399 pounds in the Muzzy Classic. For the night, we took a total of 37 fish. My son Hunter also got an arrow into the carp and so did Scott Baxter. That's why we bowfish together as a team. If you find really big fish, usually you've got to get several arrows into the fish to land it. Everyone on the team had to be able to shoot well and drive the boat. If we hadn't gotten that big grass carp, I don't believe we'd have won the tournament. After scouting the lake earlier, we had assumed that the winner would have to have 400-500 pounds of fish. But the wind and rain made bowfishing conditions really tough. We were surprised when we won, however, apparently everybody had a bad night.
Before Tournaments:
I started bowfishing about 20-years ago – wade fishing first when I'd be turkey hunting in the spring. When I walked along the edges of rivers and creeks, I'd see carp and buffalo spawning. So, I got a bow and started shooting rough fish after I finished turkey hunting for the day. Then we started fishing in bowfishing tournaments. I won my first bowfishing championship in July, 2008, in Louisiana, and our team set the world record at that time – taking 866 pounds of rough fish for a 20-fish total. Our second World Championship came in 2012 on Alabama's Lake Guntersville. We only won by one pound. The last World Championship we won was in 2014 and was the first time my son Hunter bowfished with me, making it one of the most-memorable bowfishing tournaments ever.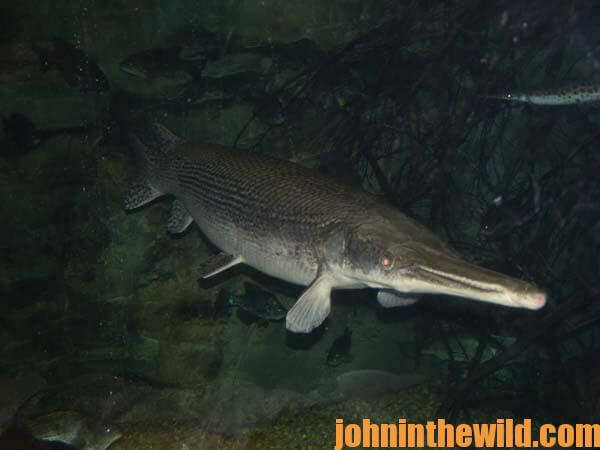 I'm often asked what's required to win a World Bowfishing Championship. Because the World Bowfishing Championship is held on a different lake every year, we spend as much time as we can allow to scout the lake where we'll compete. When competing in the World Championship, we'll spend at least a week scouting. We shoot in the Big 20 Division, so when we're scouting, we're looking for big grass carp and large buffalos. Our scouting usually starts at home. We'll get a lake map and study aerial photos on Google Earth, looking for grass flats. The Google Earth maps are so good that we can identify the locations of grass flats. Then we begin to eliminate the water that we feel won't hold the kind of fish we're try to take.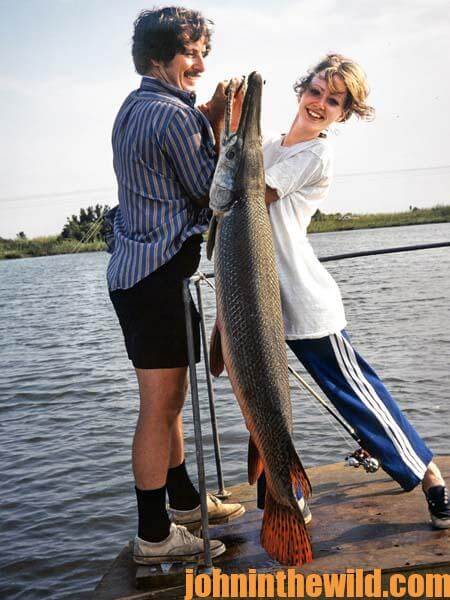 Once we arrive at the lake to scout, we'll start running to all the spots we've identified on Google Earth that we want to research. We look for the type of grass that holds the fish we want to take. For instance, grass carp prefer hydrilla and milfoil and small cuts and channels that allow them to get back into the grass. Grass carp like secluded areas away from boat traffic. When we're searching for buffalos, we look for current, since buffalos are current feeders. In the World Championship in Louisiana, at that time we were allowed to take 10 gar and 10 catfish. We weighed in some alligator gar of more than 200 pounds each. I have a 7'2" alligator gar mounted in my home that weighed 212 pounds I took then.
Even though we scout as much as we possibly can and learn as much as we can about where the fish are, and if they're feeding or spawning, we still log in as many waypoints on our GPS where we expect to find fish as possible. Then regardless of what weather conditions we fish in, we'll have places we can go to and have a reasonable chance of finding and taking a fish. Since the weather and water conditions can change overnight, my theory is that by having many places marked on our GPS, we drastically increase our odds of finding fish in each tournament. Going into the Muzzy Bowfishing Classic, I had 60 places marked for fish, and I believed that about 1/4 of those places would produce in the tournament.
During Tournaments:
We run an airboat, and the tank we have holds 75 gallons of fuel on board. We also carry 30 gallons of gas in cans on the boat. Our first run was 10-1/2-miles from the boat launch. Out of the 75 places we'd found before the tournament, I bet that other tournament fishermen had located at least 1/2 of those fishing spots. During the World Championship in 2012, we only had three fish in the boat by midnight when we arrived at the place we really liked. But there were six other boats fishing that same area. All the boats left, including us, but we returned to check that same place where we started 4-5 times that night. Finally the fish showed up, and we loaded the boat. We were the only competitors fishing there at that time. We had the place all to ourselves and put over 500 pounds of fish into the boat out of that one spot. In 2012, we only had one, 30-pound grass carp as daylight was breaking with only an hour left in the tournament. We ran about 5 miles, finished a spot we'd checked before and shot enough fish to win.
We usually give ourselves plenty of time to return before the tournament weigh-in, but we have cut it pretty close at some tournaments. At the Muzzy Classic, if you don't return to the tournament site before the weigh-in starts, you're disqualified and can't weigh in your fish. In other tournaments, if you're competing in the Big 20 event, a pound is deducted from your total weight for each minute you're late.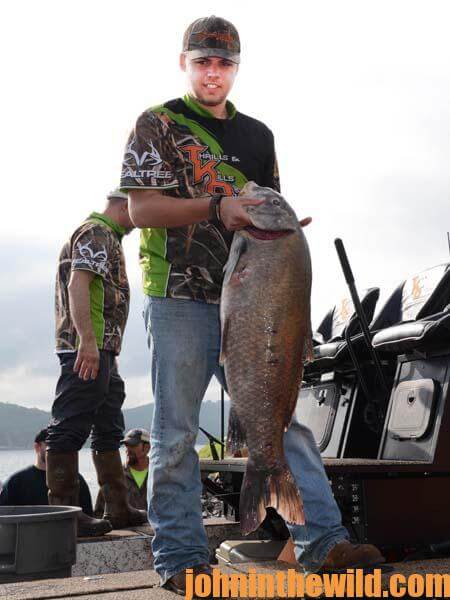 I think one main factor that causes the rough fish to move into the shallow water is the barometric pressure. I like to bowfish when the pressure's rising, and this year at the Muzzy Classic we had a falling pressure, so I was worried about how many fish we could find and take. Each year winning becomes harder, because bowfishing is one of the fastest-growing outdoor sports. I take guided bowfishing trips sometimes and often I'll have someone who's never bowfished before. And I've never taken a person on a trip at night who hasn't had a good time whether they've ever been or not. Bowfishing is just a lot of fun! I live in Hiram, Georgia, and fish the Chattahoochee River chain of lakes when I'm home. To go bowfishing with me, go to https://www.facebook.com/tommy.woods.1671.
To learn more about bowfishing, go to our series of videos called, "Bowfishing 101."
To get John's latest cookbooks, "The Crappie Catcher's Cookbook" and "The Catfish Catcher's Cookbook" for free, click here. To see all of John's available print and eBooks, click here.