Bryan Hughes of Gurley, Alabama, and his team, Backwater Outdoors, were also at the 16th Annual Muzzy Bowfishing Classic. Almost 6 weeks after I met Hughes, he set a new world record by harvesting a grass carp that weighed 91 pounds from 69,000 acre Lake Guntersville in Alabama, one of the world's best largemouth bass lakes and also one of the most-productive bowfishing lakes. Guntersville has many shallow-water grass flats that drop off into deep water and a huge population of grass carp, common carp, buffalo and gar, as well as some giant catfish. The giant fish was only in 3 feet of water when Hughes first shot it, but the fish required several other shots before it could be boated. The fish was officially certified by the Bowfishing Association of America as a world record.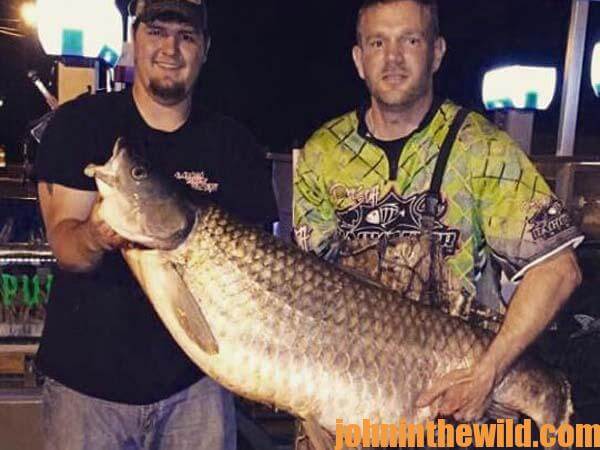 From a Hobby to a Business:
"I started bowfishing when I was a teenager, and by the time I'd graduated from college, I was the vice president of the Bowfishing Association of America," Hughes remembers. "I had learned how to design websites, so I designed me one and started selling bowfishing equipment from my home. My internet sales continued to grow for Backwater Outdoors, and by 2008 I knew I had to have a building to hold all the equipment I was selling. I opened a retail store, and business continued to grow, even though it was strictly a bowfishing store. But I soon realized that the bowfishing was mainly for spring and summer months, so I started selling archery and hunting supplies, too.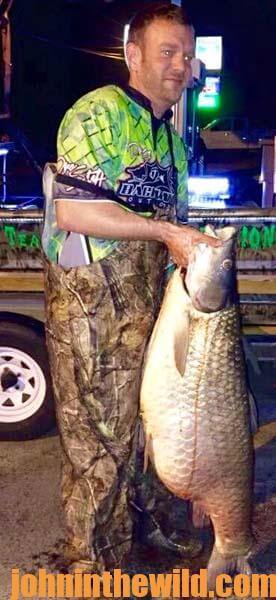 "Now I sell all types of outdoor equipment, including guns, bows, fishing tackle and other outdoor gear. Today our store is 8000-square feet, and our business is still growing. I guess you could say I made my fun into my work. Bowfishing has really exploded in the last 7-8 years. Archers now can hunt with their bows after deer season closes. And, since some of the best bowfishing is done after dark, archers can go bowfishing after work, fish 2-3 hours, get home at a reasonable hour and still work the next day. One of the easiest ways to get into bowfishing is to purchase a Muzzy Bowfishing Kit or the AMS Bowfishing Kit and then all you need is a bow. Often people want to use the same bow they use for bowhunting, but we encourage them to get a bow that shoots much less poundage than a hunting bow. If they don't want to spend money to buy a new bow, we suggest they go to a pawn shop and get a recurve bow or a used bow.
"Another thing that's different about bowfishing from bowhunting is you don't have to use a release or shoot heavy poundage, because most often your shots will be only 10-20 feet away, whether you're standing on the deck of a boat or wading in the water. Most bowfishermen I know shoot instinctively, because when you spot a fish underwater, the light rays are bent, and the fish is actually below where you see it. So, if you aim below the fish, you'll usually center punch him. Since everyone misses when they start bowfishing, missing is a part of the sport. Water depth, the distance you are from the fish and light refraction create a multiple of calculations that have to be made instantly.
"At our store, about 150 of our regular bowfishing customers also fish, and then there's about another 250 customers who come in just for fishing tackle. Three years ago we only had about half that many customers who bowfished. We're fortunate that we have several people at our shop who guide people to bowfish, and these guides who provide all the equipment can jump start folks into bowfishing and show them the easiest and quickest way to learn how to bowfish and see how much fun bowfishing can be. Although you can bowfish on many lakes, Lake Guntersville has become the hub for many bowfishermen in the South, because it has an abundance of shallow and deep water and plenty of rough fish for bowfisherman to take. We also are fortunate that there's a fabrication shop in the same building as Backwater Outdoors that does all the fabricating work, sets-up light systems on the fronts of the boats, builds shooting decks and rigs a boat out for bowfishing."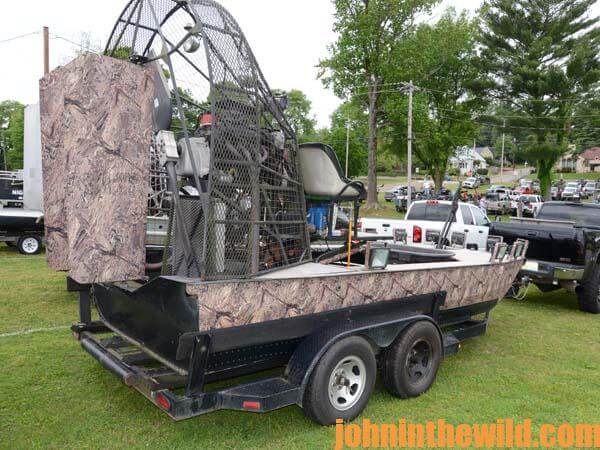 To learn more about Backwater Outdoors, visit www.backwateroutdoors.com, an online store that sells bowfishing equipment to customers in 50 states and 13 countries around the world, including Israel, Turkey, Canada and South America.
To learn more about bowfishing, go to our series of videos called, "Bowfishing 101."
To get John's latest cookbooks, "The Crappie Catcher's Cookbook" and "The Catfish Catcher's Cookbook" for free, click here. To see all of John's available print and eBooks, click here.
Next: Chuck Belmore – Bowfisherman Host of The Habit TV