Editor's Note: One of the reasons many professional bass fishermen consistently win bass tournaments is they fish with prototype lures or custom-made lures from their lure sponsors. If the lure proves to be effective at catching bass on the rivers and lakes they fish, that lure may be introduced to the market within the next 6-12 months. The exception to that rule is the lure that wins the Bassmaster Classic, which may sell over 1-million units within 6-8 months after a Classic. Fishing a custom lure may enable anglers to fish more confidently and more intensely by using a lure they've helped create, or that they've designed or had designed for them. A new lure designer has come to the fishing market this year – 14-year-old Carolina Justice from Guntersville, Alabama. To learn more, go to her Facebook https://m.facebook.com/LipRippinLures/.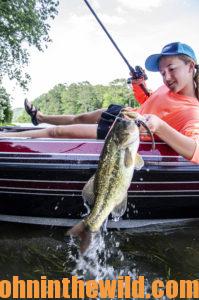 I started bass fishing as soon as I could hold a rod. I not only fished often with my dad, but I also joined our high-school bass-fishing team in the 7th grade and have been tournament fishing for three years. I'm 14-years old now. As I've built, designed and created my own lures to fish with, more and more people have wanted me to make custom lures for them. The name of my lure company is Lip Rippin' Lures. All of my lures are hand- poured and custom-colored. Currently I have them available in four stores. I make six different types of soft-plastic lures and jigs. I make fat worms that look like the Senko, finesse worms, ribbon worms, two different types of swim baits and craws.
I began making custom lures in October, 2020. They have become so popular that usually there's a wait time from the time I get the order to the time when I can ship the lures. Right now, I'm only making about 20- 25 packs of custom-made lures per week.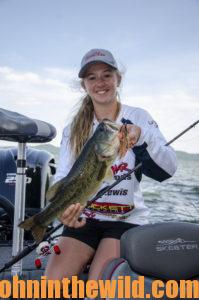 I know pictures tell the story of how effectively these custom-made lures have performed for my customers. I have photos on my Facebook page that show the success of my lures in catching bass. I'm often asked, "What do you believe is the secret sauce that makes your lures so effective?" Well, I have a different scent in my soft-plastics from what most other companies use. This scent has a hint of coffee and a little stronger scent of vanilla. I really believe not only does this scent attract bass, but it causes bass to hold on to the lure, so that the angler can get a better hookset. One of the big advantages that I've had with the development of these lures is Mike Carter (https://mikecartersguideservice.com/) and email – [email protected], a well-known guide on Lake Guntersville and Weiss Lake, who has been my first Pro Staff member. Carter fishes for and helps his clients catch really-big bass.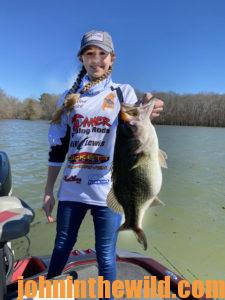 To learn more about bass fishing, check out John E. Phillips' book, "How to Bass Fish Like a Pro," available in Kindle, print and Audible versions at https://www.amazon.com/gp/product/B007RP2LZS/ref=dbs_a_def_rwt_hsch_vapi_taft_p2_i1. You may have to copy and paste this click into your browser. (When you click on this book, notice on the left where Amazon says you can read 10% of the book for free and hear 10% of the book for free). Also, you can go to www.amazon.com/author/johnephillips.
Tomorrow: Bass Guide Mike Carter Gives a Report on Lip Rippin' Lures