Editor's Note: During the middle of July, 2021, my granddaughter Abbey Hudson and I went to Eufaula, Alabama, to photograph fishing for crappie, catfish, bream and bass and to explore the possibility of sinking deer attractant blocks to attract crappie, catfish, bream and bass. We planned to: photograph my friend Tony Adams, a crappie and catfish guide on Lake Eufaula, and his new boat and equipment; and fish for 4 hours with a photo session tied in at the end of the trip with the fish we'd caught. However, I learned many years ago that you never precisely could time when you'd come off the water from a fishing trip. Stuff happens that you don't expect to occur when you set a timetable to return from your destination. As we sat in a driving rain storm late in the afternoon, this trip reminded me of episodes of the old TV series, "Gilligan's Island," that was on TV from 1963-1967 and in reruns for years. The crew and passengers of the S.S. Minnow had set out for a 4-hour cruise, but got stranded on an island for many years, including the Skipper, Bob Denver as Gilligan, and famous actors – Jim Backus, Tina Louise and Dawn Wells. Well, our trip lasted much longer than the original four hours we'd estimated.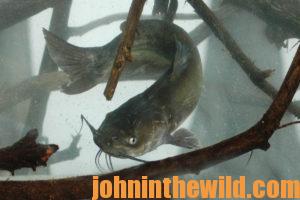 The night before the fishing trip with guide Tony Adams on Lake Eufaula was to take place, Adams called me and asked, "Are you still coming?" Both Adams and I knew that the weather report for Lake Eufaula on the day of our trip was a 50-percent chance of rain. Because I'd set-up hunting and fishing trips for manufacturers and outdoor writers in the past, I knew all the details that had to come together to get everybody to one place at one time for an outdoor adventure.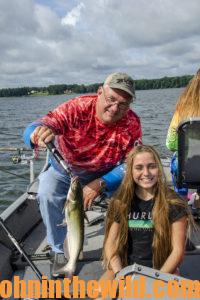 On this trip to test the effectiveness of deer attractant blocks for catching fish, Adams also had invited Amie Keller Pollard and her husband Ron from Dothan, Alabama. Amy has been a drive-time radio announcer on Country B105.3 radio station for 20 years. She was known for trying many different things, going on various adventures and reporting her adventures live on the radio. She also shoots video of her adventures, so that her audience can see online where she is, what she's doing, and what's happening. Her husband Ron is a homebuilder. All of us had to leave our workplaces to go on this trip, and Abbey Hudson even had to delay her cross-country workout for her high-school cross-country team to go. So, rescheduling this trip would have been very difficult.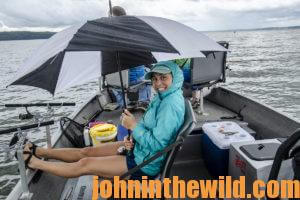 On the drive down to Eufaula, I had a conversation with the Good Lord and said: "I know You've told the weatherman that You're predicting a 50-percent chance of rain on this day we'll be fishing. But I also know You can do great and wonderous things, so consider this possibility: A) Give us a half-day without any rain on Lake Eufaula, and then You can have the other half-day to deliver the rain; or B) Redo this weather forecast for a 50-percent chance of rain in several counties in southeast Alabama near to and including Eufaula by making that happen in the other 50 percent of the area. Then You can let it rain on Lake Eufaula once we're done." I thought that was a fair deal because the weatherman would get what he was predicting, and we could get our 4 hours of photographing and fishing without any bad weather.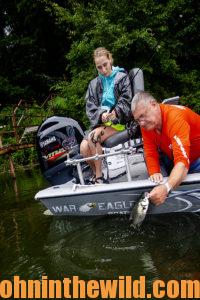 When we all arrived at the lake to fish, Adams told us, "We had a good rain yesterday that really oxygenated the lake, and the day was a cloudy and overcast day when rain wasn't falling. So, the water in the lake cooled-down drastically. All these conditions caused the crappie not to hold tight to the fish attractors I'd built, and possibly not be holding tight to the deer attractant blocks I sunk. The lake's fish probably would be scattered and harder to catch than usual. A friend of mine fished all day yesterday and only caught 10 crappie. We will catch some fish, but I don't think the catching will be as quick and easy as usual. The good news is that no rains falling, so let's load up and go fishing."
For more fishing information about Eufaula, visit https://alabamablackbeltadventures.org/, and to
learn more about a great place to stay with nice amenities right on the lake – Lakepoint Resort Lodge – visit https://www.alapark.com/. You can reach top fishing guide Tony Adams at 334-695-3003 or check out his Facebook page, https://www.facebook.com/.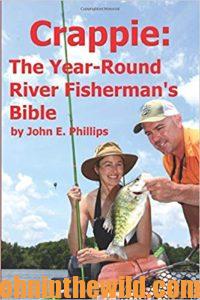 To learn more about crappie fishing, check out John E. Phillips' book, "Crappie: The Year-Round River Fisherman's Bible" at https://amzn.to/2mxWIt4, available in Kindle, print and Audible. You may have to cut and paste this link into your browser. (When you click on this book, notice on the left where Amazon says you can read 10% of this book for free and hear 10% for free. Also, on the right side of the page and below the offer for a free Audible trial, you can click on Buy the Audible with one click.)
Tomorrow: Learning How Weather Affects Where Fish Are Positioned