Editor's Note: During the middle of July, 2021, my granddaughter Abbey Hudson and I went to Eufaula, Alabama, to photograph fishing for crappie, catfish, bream and bass and to explore the possibility of sinking deer attractant blocks to attract crappie, catfish, bream and bass. We planned to: photograph my friend Tony Adams, a crappie and catfish guide on Lake Eufaula, and his new boat and equipment; and fish for 4 hours with a photo session tied in at the end of the trip with the fish we'd caught. However, I learned many years ago that you never precisely could time when you'd come off the water from a fishing trip. Stuff happens that you don't expect to occur when you set a timetable to return from your destination. As we sat in a driving rain storm late in the afternoon, this trip reminded me of episodes of the old TV series, "Gilligan's Island," that was on TV from 1963-1967 and in reruns for years. The crew and passengers of the S.S. Minnow had set out for a 4-hour cruise, but got stranded on an island for many years, including the Skipper, Bob Denver as Gilligan, and famous actors – Jim Backus, Tina Louise and Dawn Wells. Well, our trip lasted much longer than the original four hours we'd estimated.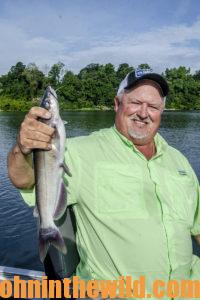 My longtime friend and well-known crappie-fishing guide, Tony Adams of Eufaula, Alabama, who also enjoys deer hunting, started thinking about the fact that deer attractant blocks that have molasses, corn, wheat, bran, soybeans and sometimes peanuts compressed together with a strong scent, should attract fish just like they do deer. "We know that fish can smell with catfish probably having the best sense of smell," Adams explains. "Crappie, bream and bass also can be attracted to smell, so I thought that perhaps the scent of deer attractant blocks could be used as an attractant to lure-in fish. Due to the grains and cereal in the blocks, as they deteriorated in water, probably they'd give off an even-stronger scent to lure in game fish. John. I'd like to put out several of these blocks in burlap sacks and sink them in three different places. Then let's see if we could go to those places later and possibly catch catfish, crappie, bream and bass.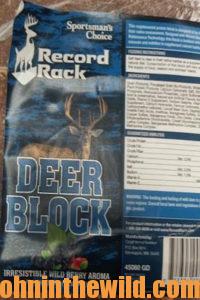 "If this idea works, these deer blocks may be the solution to putting fish where anglers can catch them. Even if the molasses, the binder and the attractant smells in the block sloughs off, the grain in these blocks will swell-up and give-off odor as long as the materials are in a burlap bag. I also believe that shad and other bait fish will be attracted to these blocks in burlap, and thereby provide food for the game fish. John, I'll plan to sink three of these blocks before you arrive, and we'll see how effective they are, and whether we can catch fish around them. We'll also fish some of the more than 1,000 brush piles I've deployed on the lake where I regularly catch crappie."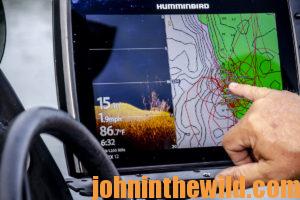 The plan sounded foolproof to me. As a longtime fisherman, I'd bought dry dog food before, put it in a burlap sack and sunk it near docks and caught catfish and bass around it. I'd also used canned dog food to attract fish by punching holes in the cans with an ice pick before sinking them around a dock. And, I know that fish feeders set-up on a dock loaded with commercially-prepared fish food, with a timer and a spin feeder, would attract fish to that dock – just before and when the feeder went off. The late Charles Kelley, once the Director of Alabama's Fish and Game Department for many years, set-up a PVC pipe that ran from his dock to just under the water. He'd pour fish food in that PVC pipe and attract bluegills, bass and crappie, but his primary target was huge carp. The carp would come in and feed at the mouth of the underwater PVC pipe where Kelley could see them and catch them. He told me, "Fishing is more about catching than it is about waiting on a fish to bite. Fishing is fun when you hear the drag on your reel squall as a big fish like a carp takes your bait, and you fight that fish, land it and release it. Not many fish in lakes and rivers are as big and fight as hard as carp."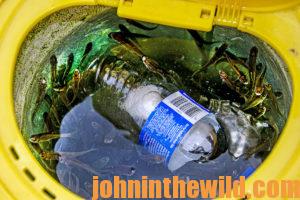 I felt certain that Adams' deer-attractant-block theory would work. So, Abbey and I went to Eufaula to fish, try out Adam's idea and take photos of our catch.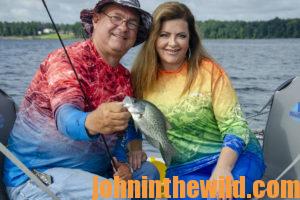 For more fishing information about Eufaula, visit https://alabamablackbeltadventures.org/, and to
learn more about a great place to stay with nice amenities right on the lake – Lakepoint Resort Lodge – visit https://www.alapark.com/. You can reach top fishing guide Tony Adams at 334-695-3003 or check out his Facebook page, https://www.facebook.com/.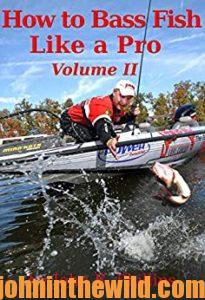 To learn more about bass fishing, check out John E. Phillips' latest bass book, "How to Bass Fish Like a Pro, Volume II," at https://www.amazon.com/ for Kindle, print and Audible versions you may have to copy and paste this click into your browser. (On the right side of the page and below the offer for a free Audible trial, you can click on Buy the Audible with one click. When you click on this book, notice on the left where Amazon says you can read and hear 10% of the book for free).
Tomorrow: Dealing with Horrific Fishing Weather at Alabama's Lake Eufaula