Editor's Note: During the middle of July, 2021, my granddaughter Abbey Hudson and I went to Eufaula, Alabama, to photograph fishing for crappie, catfish, bream and bass and to explore the possibility of sinking deer attractant blocks to attract crappie, catfish, bream and bass. We planned to: photograph my friend Tony Adams, a crappie and catfish guide on Lake Eufaula, and his new boat and equipment; and fish for 4 hours with a photo session tied in at the end of the trip with the fish we'd caught. However, I learned many years ago that you never precisely could time when you'd come off the water from a fishing trip. Stuff happens that you don't expect to occur when you set a timetable to return from your destination. As we sat in a driving rain storm late in the afternoon, this trip reminded me of episodes of the old TV series, "Gilligan's Island," that was on TV from 1963-1967 and in reruns for years. The crew and passengers of the S.S. Minnow had set out for a 4-hour cruise, but got stranded on an island for many years, including the Skipper, Bob Denver as Gilligan, and famous actors – Jim Backus, Tina Louise and Dawn Wells. Well, our trip lasted much longer than the original four hours we'd estimated.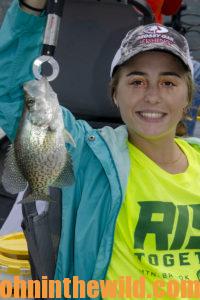 Every fisherman I know has an excuse for not catching bass, crappie, bream and catfish. Anglers are quick to explain why they haven't caught as many fish as they've thought they will, and what elements have to come together to make their fishing trips less than successful. However, certain weather conditions cause fish to actively feed, hold tight to structure and/or hold in deep or shallow water.
During the summer months, when the weather is very hot (90° plus), the skies are clear, and the water is extremely clear or only lightly stained, bass, crappie, bream and catfish usually will be holding in water: 12-20 foot deep or deeper; tight to structure like underwater brush piles, stumps, rocks, creek channels or river channels; and schooled-up on certain underwater spots where they can hide and attract bait fish that have moved to the deeper cooler water for their comfort zone and to find the most food. Oftentimes, when the weather has been extremely hot, the sun's clear in the sky, and the water doesn't have much stain in it, you can use your depth finder to locate schools of bait fish on the thermocline (where warm water in the upper story of the lake meets the cool water in the lower story of the lake), and where that thermocline intersects underwater structure where the game fish can hide, hold and attack bait fish.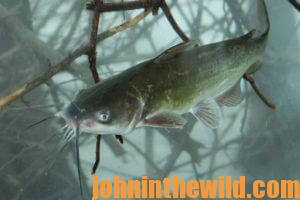 However, in the summer months with overcast days, rainy days and highly-oxygenated water, the bait fish don't have to concentrate on structure. The bass will began to roam with the schools of bait fish. So instead of holding on underwater structure, the game fish can move shallower or stay in the depth they've been in before the rain. But generally they'll spread out more and not be concentrated on deeper structure. Those conditions are what we had on the day we went to Alabama's Lake Eufaula to report on the deer attractant block experiment for attracting bass, catfish, crappie and bream.
Understanding these fishing conditions can explain why you may not load the boat with fish when you go to the lake or river on cloudy, overcast days when fishing becomes more enjoyable due to the cooler weather, but the catching is more difficult with the fish roaming more and not holding on the structure or in the water depth where you've tried to catch them. At least, this excuse of mine is why we didn't load the boat on this fishing trip. You too can use these generalities to explain why you don't catch as many fish as you've told everybody you will when fishing on a cloudy or a rainy day.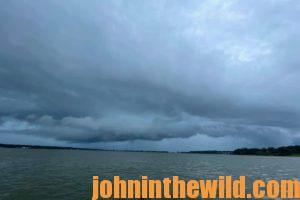 For more fishing information about Eufaula, visit https://alabamablackbeltadventures.org/, and to learn more about a great place to stay with nice amenities right on the lake – Lakepoint Resort Lodge – visit https://www.alapark.com/. You can reach top fishing guide Tony Adams at 334-695-3003 or check out his Facebook page, https://www.facebook.com/.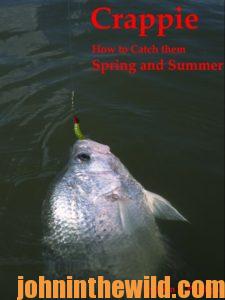 To learn more about crappie fishing, check out John E. Phillips' book, "Crappie – How to Catch Them Spring and Summer," available in Kindle, print and Audible versions at http://amzn.to/WGaJLT. You may have to cut and paste this link into your browser. (When you click on this book, notice on the left where Amazon says you can read 10% of this book for free and hear 10% for free. Also, on the right side of the page and below the offer for a free Audible trial, you can click on Buy the Audible with one click.)
Tomorrow: Working Hard to Catch a Mess of Fish in Bad Weather