John's Note: Springtime has arrived on Kodiak Island in Alaska. The giant brown bears are coming out of hibernation and searching for food. Big-game hunters from all over the world are headed to Kodiak Island for their brown bear hunts of a lifetime. Often, hunters plan 1 – 3 years in advance to have an opportunity to take these majestic, dangerous bears. Cole Kramer lives and guides in Kodiak, Alaska. He's been guiding for brown bears for 13 years, and his hunters have taken more than 50 of these dangerous, giant bears.
I like the Sitka gear, a high-performance, mountain-hunting type clothing when I'm hunting Kodiak Island. It dries very quickly, because it's made of synthetic materials. I also like Merino wool. Quite often we'll use Lacrosse hip boots, or we wear Simms lightweight chest waders or wader pants, depending on the type hunt. Sometimes hunters can get by with just knee boots. The place you're going to hunt, and the way you're planning to hunt usually dictates the type foot gear that you'll need. For instance, if you're always getting in and out of boats, you may prefer to wear chest waders or hip boots. Most of my personal guided hunts are from a base camp on land. One of the outfits that I guide for offers boat hunts or hunts that are based out of a cabin, but I prefer to do the float hunts or the pack-in type hunts. Since we book most of our hunts a year or two in advance, if you're coming to Kodiak Island to hunt brown bears, I strongly recommend that you first decide from type camp you want to hunt. Then talk with your guide about the footwear and other equipment that he suggests.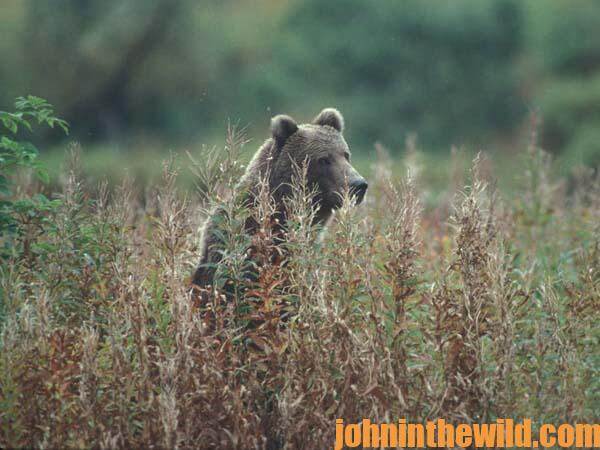 Weather can be a major problem here at Kodiak. However, if you have the right clothing, the correct boots and the other equipment required to make the hunt comfortable, you may be able to hunt in weather that you normally won't hunt in at home. Weather is another reason that we suggest you plan for a 10- to a 15-day hunt. Often, we may spend a day or two in camp waiting on the weather to break, so that our chances for finding and taking bears are better. A brown bear hunt is an adventure hunt. Dealing with the weather conditions, the terrain and all the other aspects of the hunt are what create the adventure as much as getting close to dangerous game like the brown bear. Your guide wants you to be successful. He'll do everything he can to make sure you find and take the bear that you've come to harvest. So, listen to the advice he gives you, and strongly consider the equipment he recommends.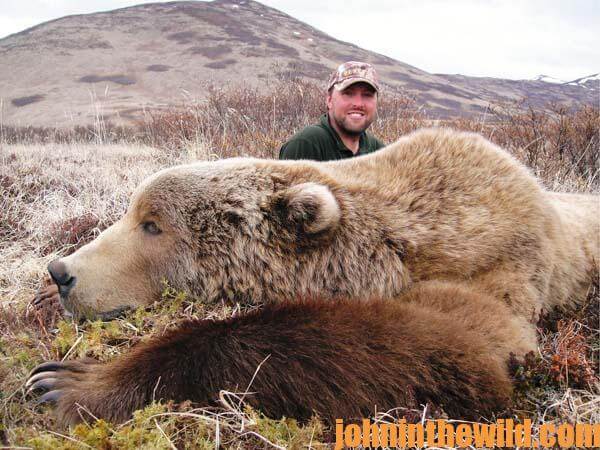 I guide and book hunts for Kodiak Outdoor Adventures and Alaska Outfitters. My personal guide service is Kramer's Kodiak Guide Service, 907-539-6447, [email protected]. I guide both bowhunters and gun hunters, and I've had some really exciting hunts. Spring brown bear season is in April and May with fall hunts in October and November. I also guide for Dall sheep in August and mountain sheep in September and October. Sitka blacktail deer hunts are typically in November and December. I guide too for desert sheep in Mexico and in other countries all year long.
To get John E. Phillips' Kindle eBooks, "Bowhunting the Dangerous Bears of Alaska and The Most Dangerous Game with a Bow: Secrets of the PSE Pros," click here.
Next: Cole Kramer Tells about Having a Giant Brown Bear at 3 Feet – His Most Exciting Bowhunt Ever