John's Note: Springtime has arrived on Kodiak Island in Alaska. The giant brown bears are coming out of hibernation and searching for food. Big-game hunters from all over the world are headed to Kodiak Island for their brown bear hunts of a lifetime. Often, hunters plan 1 – 3 years in advance to have an opportunity to take these majestic, dangerous bears. Cole Kramer lives and guides in Kodiak, Alaska. He's been guiding for brown bears for 13 years, and his hunters have taken more than 50 of these dangerous, giant bears.
A couple of years ago I was guiding a bowhunter. On the first day of the hunt, we saw this giant brown bear kill and eat a brown bear cub. The only approach we could make to the bear was through some tall grass. But if we went into that grass, I knew we wouldn't be able to see the bear when we got close enough for a bow shot. The next 4 days the weather was so bad we couldn't hunt. But on day 5, we were able to leave the tent. We hoped to catch up to this big bear we had seen earlier. I had built a ground blind along the edge of a creek. The wind was blowing about 30 mph, the rain was pouring down, and there was a lot of fog on the creek. We were huddled beneath a tarp to stay dry.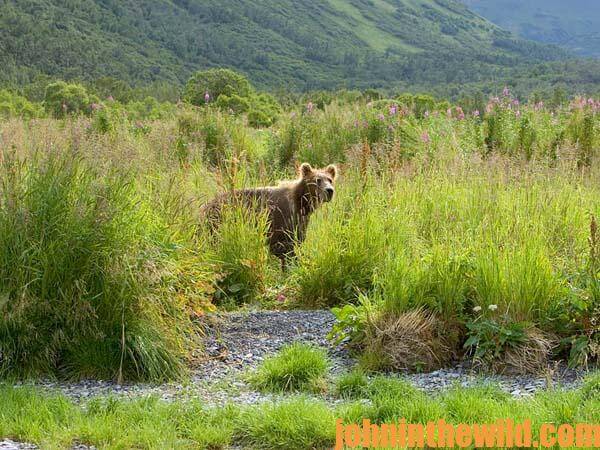 All of a sudden from out of nowhere, we spotted this huge bear coming up the edge of the river directly toward us. When the bear was only a few hundred yards away, I got a really good look at him. I told my bowhunter. "This is the bear we want to take." We left the protection of the tarp and started moving toward a little ambush spot that I had set-up on the edge of the creek. As the bear came closer, my bowhunter came to full draw and was prepared to take the shot. The bear was at 12 yards when he started taking a few steps out into the water, coming straight for us. The bear had spotted us across the creek. He'd looked down at the fish in the creek. Then he'd look up at us. I whispered to my hunter, "Take the shot." However, my hunter said, "I don't want to take the shot while the bear is walking." I whispered, "Watch for the bear to take his next step. When he puts his foot forward, aim right behind the shoulder, and touch the trigger on your release. You'll make a good hit."
But, my bowhunter was still uncomfortable taking the shot on this monster-sized bear while the bear was walking. I knew that the bear wasn't going to get much closer without seeing or smelling us. So, I told my hunter, "As soon as the bear steps over that little branch, you have to shoot." The bear stepped over the branch coming straight to us, walking with his head down looking into the creek. So, my hunter didn't have a shot. I told my hunter, "Don't move. The bear is too close. I'm either going to have to get the bear to stand up or get him to turn to go down the creek. If he stands up, take the shot. If he turns to go down the creek, take the shot as he's going away." I stood up to try to get the bear to stand up or walk away from us. The bear was so close that when my hunter moved, and the bear saw him. The bear rushed us. I started yelling and standing up as high as I could. When the bear was 3 yards from us, he stood up. I had my .375 at my shoulder, and my finger was already on the trigger. But when I looked at the bear's eyes, I knew he didn't really understand what we were. So, I held my shot. My bowhunter fell over sideways and released the arrow by accident. He completely missed the bear. He quickly nocked an arrow, but he was so excited (or terrified) that he couldn't move. He was completely awestruck at the size of the bear and how close the bear was to us. I kept yelling, "Hey, hey, hey." Finally, the bear dropped down on all four feet and ran off. I looked at my hunter and asked, "Are you okay?" He replied, "Yeah, I'm alright."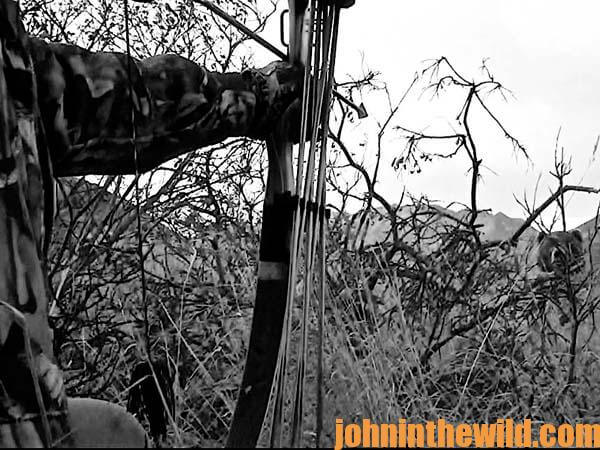 After the bear had gone, we walked back up to the little knob of land where I had set-up the tarp shelter, so we could watch the creek. Finally, my hunter asked, "How big was the bear?" I smiled and said, "He was more than 10-feet tall." He asked, "Do you think we'll be able to get on that bear again?" I answered, "I don't know, but we're sure going to try." We were both somewhat discouraged, because we both knew we had a trophy bear within easy bow range, and we had failed to connect. We were pretty discouraged as we sat under the tarp, but 2 hours later I spotted a brown bear coming down the creek.
We left our spotting knob, went down by the creek and set-up a little ways away from where we had taken a stand earlier. When the bear was 15 yards away, I immediately recognized this bruin as being the same bear that was within 3 yards of us 2 hours earlier. The bear's attention was focused on the blind where we'd been sitting 2 hours earlier. The bear was woofing, huffing and puffing as he looked at the blind. He was trying to make whatever was in the blind 2 hours earlier show itself. This time my hunter was ready – he was at full draw. When the bear stepped out in a clear spot 20 yards from our ground blind, my hunter released the arrow and made a lethal hit. The arrow made a complete pass-through and the bear only went about 80 yards before he expired.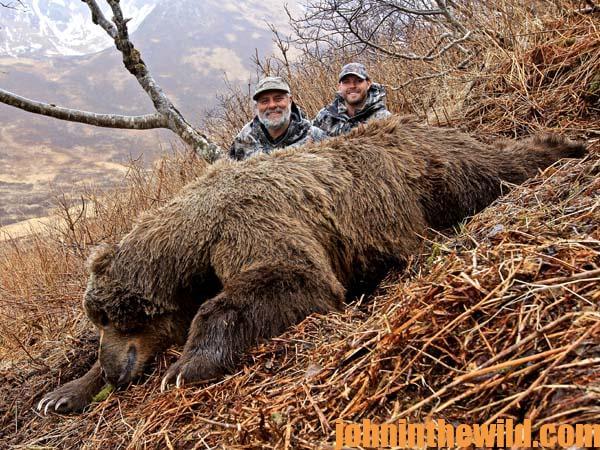 The bear squared 10-feet, 4-inches, and his skull measured 28-1/2-inches. The bear scored really high in the Pope and Young Club. At one time, this bear scored the number-one archery brown bear in the Safari Club rankings. I've had to take a few bears that got in too close, but this particular hunt was really memorable. We had this giant brown bear 3 yards from us; my hunter missed him; we were lucky enough to run the bear off without me having to shoot, and I was really glad I didn't shoot. When my hunter finally took the bear with his bow, I was very excited for him. On this hunt, we went from the depths of fear and defeat to the mountaintop of harvesting a brown bear with a bow.
I guide and book hunts for Kodiak Outdoor Adventures and Alaska Outfitters. My personal guide service is Kramer's Kodiak Guide Service, 907-539-6447, [email protected]. I guide both bowhunters and gun hunters, and I've had some really exciting hunts. Spring brown bear season is in April and May with fall hunts in October and November. I also guide for Dall sheep in August and mountain sheep in September and October. Sitka blacktail deer hunts are typically in November and December. I guide too for desert sheep in Mexico and in other countries all year long.
To get John E. Phillips' Kindle eBooks, "Bowhunting the Dangerous Bears of Alaska and The Most Dangerous Game with a Bow: Secrets of the PSE Pros," click here.