John's Note: Springtime has arrived on Kodiak Island in Alaska. The giant brown bears are coming out of hibernation and searching for food. Big-game hunters from all over the world are headed to Kodiak Island for their brown bear hunts of a lifetime. Often, hunters plan 1 – 3 years in advance to have an opportunity to take these majestic, dangerous bears. Cole Kramer lives and guides in Kodiak, Alaska. He's been guiding for brown bears for 13 years, and his hunters have taken more than 50 of these dangerous, giant bears.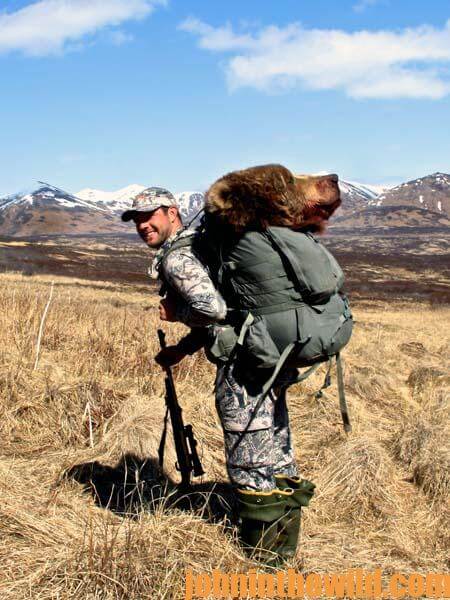 For us to have a successful brown bear hunt, the weather has to cooperate, the hunter has to be patient, and he must have the right gear and the right weapon. For a successful hunt, all four of these ingredients are equally important.
Kodiak Island, where I hunt, homes a lot of thick brush. When hunters spot bears a mile or two away while glassing the landscape, many hunters want to immediately get up and go after that bear. The first problem this creates is that by the time you get to the area where you've spotted the bear, you may no longer be able to see him due to the really-thick brush. Also if the bear is on the move, you may not be able to catch up with him, especially if he's walking away from you. So, many times to take the bear, you have to sit still and continue to watch the bear until he beds down or wait to let the bear get to a location where you'll have a high-percentage shot.
Our hunts last for 10 to 15 days, depending on the way the hunter wants to hunt and the type of weapon he's using. Often, the first question I'm asked is, "What rifle should I bring to take a brown bear?" I always recommend a .375 – a knock-down, drag-him-out brown bear gun. I've had clients take brown bears with smaller calibers, and I've had several hunters harvest their bears with .300 Win Mags. However, in extreme situations, if you hit a bear that's in the brush, if you have to go in after him, you need the horsepower of the .375. The .375 bullet won't be deflected, if it hits some brush on the way to the bear. If a hunter has to shoot through a small tree or branch, this cartridge won't fragment. It still will deliver that knock-down punch, if you're in a hairy situation. When the .375 hits a bear – the bear doesn't just feel a sting. He knows that something really bad has happened. Usually, this caliber will knock a bear off his feet, or it'll make him change direction, because he'll know he's been hit. I like a 270 grain like a Barnes TSX Triple Shock X-Bullet. I'd suggest getting the best bullet you can possibly buy for a .375 caliber. I have used 300 grain bullets. Both the 270 and 300 grains do a really good job of putting a brown bear down quickly.
After a potential client asks me what caliber rifle I recommend, he usually asks, "How long of a shot will I have to take?" My answer is: "From 3 feet out to 100 yards." We really strive to get our hunters within 100 yards of the bear they're hoping to harvest. If the hunter has to take a longer shot, the potential for something to go wrong is much greater. Many hunters who come to Alaska to hunt goats, sheep, and/or deer may have to take longer shots. But when you're trying to take a brown bear that often will weigh from 1,000 to 1,500 pounds, you need to get in close. The longer the shot the hunter has to make, the more difficulty he'll generally have with putting the bear down quickly and efficiently. Another reason we like close shots is that even if the hunter gets a good shot on the bear, he may have to take a second shot to put the bear down quickly. The farther away the bear is from the hunter; the more difficult that second shot may be.
My hunters have taken several big brown bears at very close range. I carry the .375 rifle with me as my backup gun. Because often even if the hunter makes a good hit on the bear, I may have to go into the brush and find the bear before we can drag him out of the brush. Sometimes those bears still will have quite a bit of life in them. I may go into the brush on my hands and knees. I'll just be listening for the bear and looking under the brush to try and see the bear before he hears or smells me. Sometimes those brown bears will stand up, and I'll have to take a quick shot to finish the bear off. Often, I feel like the only thing between me and harm's way is the .375, and I know when I'm in that close that bullet will put the bear down. These kinds of hunts are really thrilling.
I guide and book hunts for Kodiak Outdoor Adventures and Alaska Outfitters. My personal guide service is Kramer's Kodiak Guide Service, 907-539-6447, [email protected]. I guide both bowhunters and gun hunters, and I've had some really exciting hunts. Spring brown bear season is in April and May with fall hunts in October and November. I also guide for Dall sheep in August and mountain sheep in September and October. Sitka blacktail deer hunts are typically in November and December. I guide too for desert sheep in Mexico and in other countries all year long.
To get John E. Phillips' Kindle eBooks, "Bowhunting the Dangerous Bears of Alaska and The Most Dangerous Game with a Bow: Secrets of the PSE Pros," click here.
Next: Cole Kramer Says to Back Down the Power of Your Riflescope to Take Brown Bears