Editor's Note: Sure, fishing is fun – being out on the water, relaxing and enjoying your surroundings. But catching something is even better. Here's a rundown of summertime fish to fish for and the techniques for catching them. Fishing is more fun when your pole is bent. When I go fishing, I like to catch something. Of course, I enjoy a sunrise, birds singing and beholding the beauty of God's creations. However, I don't have to get up at 4:00 am, drive 50 miles and get sunburned to do that. When I put a bait in the water, it is with the firm resolve that at any instant I will be waging war with some kind of fish. I'm not an angling purist. I prefer a bent rod to smelling the roses or taking only one species of fish. Even when I go bass fishing. I often will take along a few jugs for cats, a bucket of minnows for crappie, some worms for bream and a fly rod with a popping bug that will catch anything that swims and an ultralight rod rig with a jig to be ready if I see a school of white bass surfacing. This week we're looking at ways to put fish in your ice chest.
Because of the fishing pressure on many lakes and rivers today throughout the U.S., catching good limits of fish has become more difficult for anglers.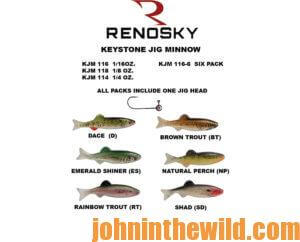 Catching Bass
We've known for some time that to get more bites when bass fishing, you need to use smaller baits, lighter line and finesse techniques. Several finesse bass-fishing techniques use smaller lures that have made a big impact on the tournament bass-fishing circuits. Also weekend anglers have begun to adopt some of these tactics.
*Ned Rig: Professional bass angler, Joey Nania, of Pell City, Alabama, started fishing bass tournaments when he was 11-years old. He has a television show titled, "Sweetwater TV," that airs on the Sportsman's Channel and Fox/Sun Sports in Florida. He says, "The Ned Rig will catch just as many big bass as it does little bass. Remember that large elephants eat tiny peanuts. The same is true of big bass. They eat these little lures like the Ned Rig since the rig comes in several weights of jig heads and is available in a wide variety of colors. Once the Ned Rig hits the bottom, the jig head stands-up. This plastic lure then has its tail in the air, and its head appears to be feeding on the bottom, making this little lure look like an easy bait for any size bass or crappie to eat."
Catching Bluegills, Bass, Trout and Crappie
*Small Crankbaits and Soft Plastics: Another small lure that has produced plenty bass is the Rebel Wee-R www.lurenet.com, a small crankbait, and the Strike King Rage Craw www.strikeking.com. The Wee-R can be fished successfully in small streams and little creeks in very-shallow water and is one of the favorite baits of kayak fishermen. Historically the Wee-R catches bass, bream and crappie and can be fished in many places where you may not think of fishing another crankbait. The Rage Claw, a soft-plastic lure, is extremely deadly when flipped into grass and other thick cover, as well as fished around riprap and any rocky structure. Although primarily a bass bait, the smallest version of the Rage Craw will produce crappie and occasionally a bluegill.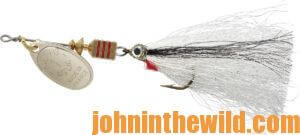 *Renosky Minnow – This jig is one of my favorite lures to fish anytime I need to catch a fish. It is one of the smaller swimbaits I've ever seen. It comes in several colors, and I don't know of any fish that eats baby bluegills, small minnows or newly-spawned bass that won't eat this jig. When bluegills are on the bed, the Renosky https://www.facebook.com/renokylures/ is one of the most-deadly lures to fish. All you have to do is cast it out on 2-4 pound-test line, reel it just fast enough to keep it up off the bottom and hang onto your rod and reel. Many anglers have named this a do-nothing type bait. One of my favorite times to fish it is in the summer months when the bluegills are bedding, and/or when crappie are moving up shallow.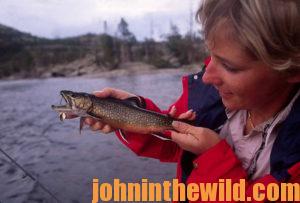 *Little Spinners – You just can't beat little spinners when fish aren't biting. The Zero Mepps www.mepps.com and the Panther Martin https://www.panthermartin.com/ are two classic types of small spinners that will catch every fish from trout, bass and crappie to bluegills. These tiny lures are often fished on 2-4 pound test line and are very successful in producing trout in fast-moving water on small streams, fished where there's no current like in farm ponds or fished down lakes and rivers along weed lines and/or bank structure.
If you're tired of fishing and not catching, try these lures. Often you'll catch fish all day long – and a wide variety of fish – wherever you put a hook in the water.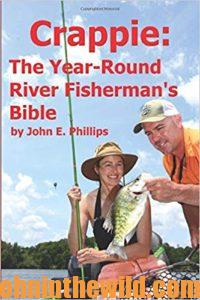 To learn more about crappie fishing, check out John E. Phillips' book, "Crappie: The Year-Round River Fisherman's Bible" available in Kindle, print and Audible versions at https://amzn.to/2mxWIt4 . You may have to copy this click to the book into your browser. Notice on the left-hand side where it says you can read or listen to 10% of the book for free.