Editor's Note: Sure, fishing is fun – being out on the water, relaxing and enjoying your surroundings. But catching something is even better. Here's a rundown of summertime fish to fish for and the techniques for catching them. Fishing is more fun when your pole is bent. When I go fishing, I like to catch something. Of course, I enjoy a sunrise, birds singing and beholding the beauty of God's creations. However, I don't have to get up at 4:00 am, drive 50 miles and get sunburned to do that. When I put a bait in the water, it is with the firm resolve that at any instant I will be waging war with some kind of fish. I'm not an angling purist. I prefer a bent rod to smelling the roses or taking only one species of fish. Even when I go bass fishing. I often will take along a few jugs for cats, a bucket of minnows for crappie, some worms for bream and a fly rod with a popping bug that will catch anything that swims and an ultralight rod rig with a jig to be ready if I see a school of white bass surfacing. This week we're looking at ways to put fish in your ice chest.
In the spring and summer, when the white bass school, an angler who knows where to find those schools often can limit out before breakfast. Sometimes, white bass will surface just at daylight in the same area on several consecutive days. Check with your local boat-dock operator to find out where those hot spots are located.
Two tactics consistently produce whites.
The Plunking Cork and Jig: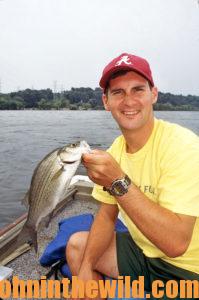 These old standbys work. Attach your line to a plunking cork (a cork with a scooped-out top and a pointed end, often made of wood). Then tie on either a feather or a hair jig, with yellow or white seeming to be the most productive, 12-18 inches below the cork. Cast your plunking cork and jig into the area where white bass normally school. Begin to jerk the cork along the surface, so that it splashes and throws water. This action simulates feeding white bass and often will call them to your lure. If you see the white bass striking on the surface, throw the plunking-cork rig into them, and pop the cork back to the boat. When white bass are on the surface, the popping-cork tactic is hard to beat.
The Little George, a Hellbender or a Bomber Mudbug: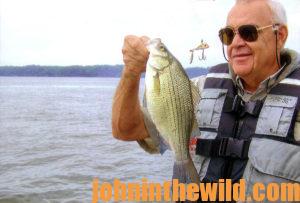 Another method that works equally well and that often produces bigger white bass out of the same school, is to cast a Little George (https://www.mannsbait.com/) into the schooling area and jump it off the bottom. Expect the strike when this lead-headed tail spinner falls back to the bottom. This technique works well when you know just about where to find the school of white bass.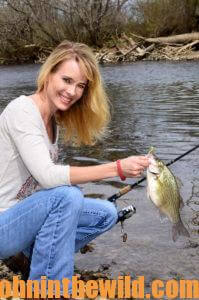 When pinpointing the school becomes difficult, you can troll a Hellbender
(https://www.lurenet.com/heddon-magnum-hellbender) or an Arbogast Bomber Mudbug with a jig tied 12-18 inches to the last hook of the lure. Using this trolling tactic, you may catch anything from white bass to largemouths, smallmouths, crappie, sauger, walleyes and/or catfish.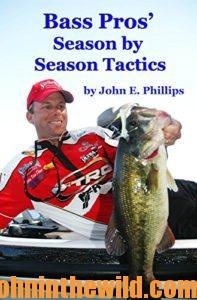 To learn more about various types of bass fishing, check out John E. Phillips' book, "Bass Pros: Season by Season Tactics," – available in Kindle, print and Audible at https://amzn.to/2IKUhe2. You may have to copy this click to the book into your browser. Notice on the left-hand side where it says you can read or listen to 10% of the book for free.