John's Note: Dustin Mizell of Foley, Alabama, owns Fish-Kabob Bowfishing and Charters www.fish-kabob.com, Mizell's Mounts – a taxidermy business, South Coast Safaris – his local bowhunting guide service – and Puddin Proof Productions – a video company. He specializes in one of the fastest-growing and most-exciting outdoor sports – bowfishing – that combines hunting and fishing.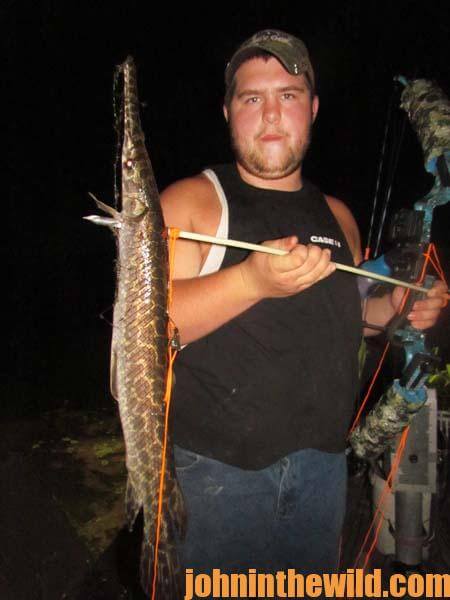 Generally we take most of our bowfishing trips in the summer months, due to the weather being better in the summer than in the spring. However, we often will have poor water conditions then. In the spring, weather is usually not as good as in the summer, but the water is generally much clearer. My bowfishermen usually see and harvest the most fish when we fish Mobile Bay or Alabama's Gulf Coast where the water is brackish, since they have the opportunities to take freshwater and saltwater fish there. I enjoy the Mobile Bay trip the most, because we usually will see and shoot a lot of buffalos – a big fish that doesn't hold as tight to the bottom as some other fish. They're big enough for the bowhunter to arrow and average about 5-pounds apiece or larger. So, our bowhunters have good-sized targets at which to shoot.
We may see a million mullet on that trip, but their bodies are long and slender, they swim fast, and they're hard to hit. Of course, if you want to try to shoot numbers of fish, the mullet will be your number-one fish, simply because we see so many of them on our brackish-water trips. And, on our saltwater trips, the mullet will be the fish you see the most with a shooting-size mullet weighing 2-3 pounds. So, on the brackish-water trips, not only will our bowfishermen see numbers of mullet but also bigger fish than they'll see on some of our other trips. If the water's murky, you won't take as many fish as you will on some of our other trips. If the water's clear, you can shoot until your arm gets tired.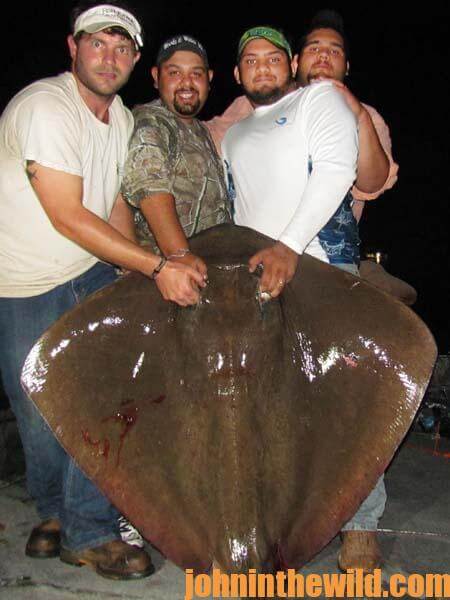 Buffalos will be the second-most abundant fish, and then we'll take eight to 10 spotted gar. We shoot quite a few common carp, but the grass carp are harder to find. We'll shoot one of the alligator gar about once out of every three trips. The alligator gar will weigh from about 10 pounds to over 100 pounds. Also in brackish-water, on one trip, we may see 200 catfish. On the next night, we may not see any freshwater catfish. If we have a good night on catfish, they usually will weigh from 1-10 pounds each. If we take a flathead catfish, it generally weighs 20+ pounds.
The Cost of a Bowfishing Trip:
The offshore trips and nearshore trips are based on how far we go. We charge $125 per bowfisherman for the other trips. We take a minimum of five to six clients per trip on each boat, and we have three boats. We provide the licenses and all the bowfishing gear. Also, we have outboards, trolling motors and fans on our boats.
I also offer combination wild hog hunts during the daylight hours and bowfishing trips at night. Go to my webpage at www.fish-kabob.com; on Facebook, https://www.facebook.com/fishkabob; by email [email protected]; or, by phone 251-504-4709.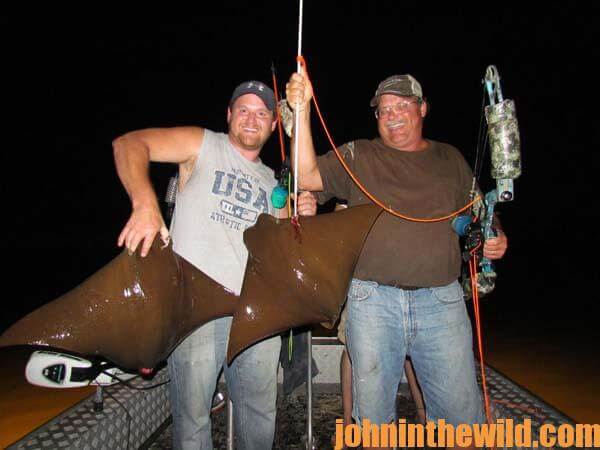 To get John's book, "The Bowfishing Bible," go to http://amzn.to/22zX7Zz. To learn more about hunting and fishing from John E. Phillips' print and eBooks, click here.