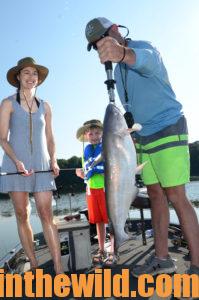 Editor's Note: This past week I fished with the Phillips' family of Wetumpka, Alabama, Jonathan, Alicia, and Wyatt, who have the same last name, but aren't kin to me. I wanted to learn more about hot-weather river fishing and how to crappie fish with a youngster from Jonathan and Alicia – both top crappie-tournament pros.
While fishing one day this summer, Jonathan's ACC Crappie Stix (ww.acccrappiestix.com) bent almost double. An 8-pound blue catfish rolled up on the surface, and his wife Alicia pulled out their long-handled dip net and brought the cat on board. According to Jonathan, "Remember when you're crappie fishing that other species of fish live on these structures too. We often catch catfish, bass and the occasional bluegill. So, I need a pole with a sensitive-enough tip to spot a crappie barely taking my bait, but that has a strong-enough backbone to pull in a big catfish or a bass. And, that's why I fish with ACC Crappie Stix. When I'm guiding, my client wants to land a big fish if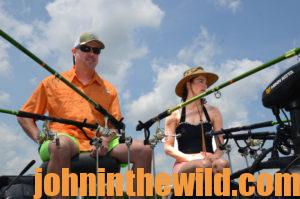 it takes the minnow – whether that is a catfish, a bass or any other fish. A 4-pound spotted bass is generally considered huge in many rivers. I've caught 4-1/2 – 5 pound spotted bass on these poles on the Coosa River near my home before. One time I was pre-fishing for a tournament on the Alabama River and went up a shallow creek where the water was only about 1-foot deep. A 25-pound flathead catfish sucked in my minnow. I still don't know how I landed that big cat that I fought for almost 20 minutes. When we got that catfish in the boat, I could put my whole hand in its mouth. I caught it on 8-pound-test line on a 16-foot ACC Crappie Stix.
"During the summer and winter, you'll often find several species of fish ganged-up on the same structure. I normally fish 16- foot ACC Crappie Stix Trolling Rods. I use them for long-line trolling, spider rigging,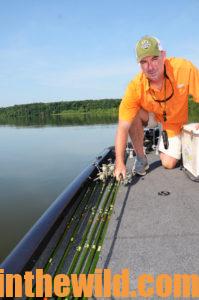 pushing or pulling crankbaits, vertical jigging and fishing any way you've once fished a cane pole. They are multi-use rods. I put Pinnacle Tiny Deadbolt spinning reels on these rods, and when we catch a big fish, I really appreciate the drag on these spinning reels. I only put about 30 yards of line on these reels, and when the line on the reel gets low, I just spool up an entirely-new line. I usually change out lines on my reels three or four times a year.
"I'm often asked, 'Why do you like spinning reels better than you do baitcasting reels?' Well, I have a well-kept secret – I'm horrible with a baitcasting reel. I never would be a good fisherman, if I had to use a baitcasting reel. I know a lot of people who use a baitcaster on a crappie rod, and there's nothing wrong with using either a baitcasting or a spinning reel."
People often ask me why I'm always fishing with guides and professional fishermen, and the answer is simple, I am a student of crappie fishing. I want to learn all I can about how to find and what to use to catch crappie. Guides and tournament pros have to fish so-many different rivers and lakes all over the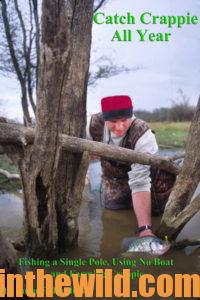 country in various types of weather and water conditions and also develop new tactics that I've never seen or heard of before. As a freelance writer, my job is to get the best and the newest information I can find about crappie fishing, bass fishing, cat fishing and other forms of fishing and hunting and take the knowledge I've learned, and share it with you, our readers.
To learn more about Jonathan Phillips and his guiding, email [email protected], and contact him on Facebook at https://bit.ly/2xexIJ6. For more information on more-productive crappie fishing, check out John E. Phillips' book, "Catch Crappie All Year: Fishing a Single Pole, Using No Boat and Farming Crappie," available in Kindle, print and Audible versions at https://www.amazon.com/Catch-Crappie-All-Year-Fishing-ebook/dp/B00VO0DZTI.