Editor's Note: At this writing, nine past collegiate anglers are on the Bassmasters Elite Circuit, the highest level of professional bass fishermen and more fishermen are on the way. In 2017, 25-year-old Jordan Lee of Guntersville, Alabama, won the Bassmaster Classic. Also in 2017, 26-year-old Dustin Connell of Clanton, Ala., won $100,000 at Ross Barnett Lake on the Elite Circuit (see John In The Wild for May 15, 2017 – "Go to College to Become a Bass Pro with Dustin Connell"  http://johninthewild.com/dustin-connell-starts-off-professional-fishing-young/). Why are these two young men so successful at such an early age, and why should we expect to see more collegiate bass fishermen winning major bass-fishing tournaments in the future? We'll look specifically at Jordan Lee this week.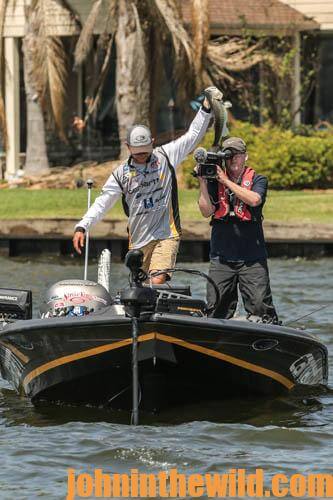 Twenty-five-year-old Jordan Lee from Guntersville, Alabama, had given up all hope of winning the 2017 GEICO Bassmaster Classic presented by Dick's Sporting Goods on Lake Conroe just outside of Houston, Texas, on March 24–26, 2017. On the last day he was about 13 pounds behind the leader Brent Ehrler of Newport Beach, California. He was in 15th place out of 25 competitors when he started fishing the last day. However, he wanted to finish strong and continue to compete, because the higher up he finished, the more money he would earn. On this last day of the Classic, during the first 30 minutes of his day, he hadn't had a bite.
"I knew I'd have to catch five bass that would weigh around 30 pounds total to win, because the leaders had been bringing five fish limits of 20 pounds each or more to the scales," Lee explains. "My goal was to have the best day I could and keep on fishing hard. But on that last day, I felt I didn't have a chance to win."  About 45 minutes into the day, Lee caught a 3 pounder, however, he recalls he only got eight or nine bites all day long. Engine troubles limited him to fishing this one place he'd located during practice.
"I was fishing several different baits, but I caught most of my bass on a brown Living Rubber Strike King (www.strikeking.com) football head jig, using either a Rage Craw or a Strike King Space Monkey as a trailer. I also fished a Strike King Series 5XD in the citrus shad color and a Strike King 8" straight tail worm. I had found a hard spot in 6 feet of water on a point coming out of a creek.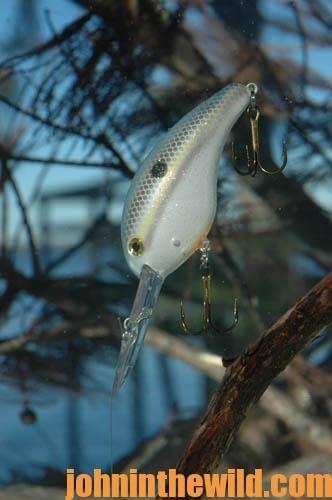 "All the bass I caught were post-spawn bass. This spot must have been a staging area where the bass stopped over before moving out to the river channel. The place I was fishing didn't have any brush, stumps or other bottom structure. Because the weather was warm, new bass were moving onto this spot every day, although no school of bass seemed to be holding there. This place was very hard to find, and I just happened to pinpoint it. I was fishing the Strike King 5XD on several different points coming out of spawning pockets as a search bait when I discovered that hard bottom spot."
Lee fished 12 pound test Seaguar AbrazX line (https://seaguar.com/) when cranking on a Quantum (http://www.quantumfishing.com/) 7'10" medium heavy cranking rod and a 5.3:1 Quantum KVD cranking reel. He used Seaguar's AbrazX 17 pound line with jigs and shaky heads. He also liked Seaguar's InvisX line. On the last day of the Classic, he caught a 6 pounder to make his catch that day a total of 27 pounds, 4 ounces.
One of the big advantages that Lee had was that no other competitor had found the site he was fishing. After the first day of Classic competition, Lee was in 37th place among the field of 52 competitors. When the last day (Day 3) of the Classic ended, Lee figured he had five bass that would weigh between 25 and 27 pounds, but not nearly enough weight to win the Classic he thought. If the leader, Brent Ehrler, caught another 20 pound bag of fish, and the other competitors brought in five fish that weighed about 20 pounds each, Lee just hoped to be in the top five finishers.
To learn more about bass fishing, check out John E. Phillips' ebooks, print books and Audible books at http://johninthewild.com/books#bass.
Tomorrow: Jordan Lee and the Last Day of the 2017 Bassmaster Classic
EXPLORE MORE: you'll love these stories from John too