John's Note: Ernie Calandrelli of Orchard Park, New York has been shooting PSE bows www.psearchery.com  for 30-plus years, is a member of the Mossy Oak Pro Staff www.mossyoak.com and Director of Publications and Advertising for Quaker Boy Calls www.quakerboy.com. In 2014, he's shooting the PSE DNA because he likes the speed the bow delivers, the forgiveness of this bow and the ease with which he can draw it.
When I hunt in Missouri, the farm I hunt there doesn't have any food sources.
I'm hunting in big woods with numbers of finger ridges funneling down to the bottom land. So instead of hunting food sources, I hunt what I call intersections, where several trails come off the ridges and intersect at the bottoms of two or three ridges. Oftentimes we think of funnels as being two-different types of habitat coming close together, for instance, a creek and the corner of a field. However, many times a funnel can be a place where several active deer trails cross, like the trails coming off three different ridges that come together in one spot in bottom land. I call these places traveling funnels that deer from three different areas use to get to and from three various bedding spots, or where three or more trails converge that bucks and does both use during the rut. To have the most-effective deer hunt you possibly can have, set-up a tree stand or a ground blind where you find the most deer trails intersecting each other and that you can hunt from, regardless of the weather.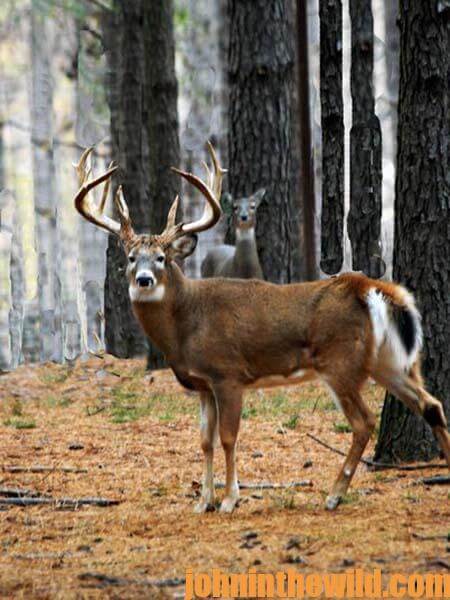 As I've mentioned earlier, I travel and hunt deer in many states during deer season. Once I get to hunting camp, the first stand site that I try and find is a place to set-up a ground blind, often on the edge of a field or wherever I can find really good deer sign. The first thing I do is set-up a ground blind, make sure I've got it secured to the ground and brush the ground blind, so it doesn't look like a wall of Mossy Oak camouflage. As I'm leaving the ground blind, I pray that I don't have to hunt there. However, if the weather changes dramatically where I'm hunting, and the area receives rain, sleet or snow, I can go to that ground blind and have a dry stand for hunting. Then I don't have to waste the day sitting in camp watching television or reading a book. So, if you've planned a 3 or a 4-day hunt, and bad weather moves in, if you've already got your ground blind set-up on the first day, then you've got yourself a place to hunt on a bad weather day.
For more deer-hunting tips, get John E. Phillips' Kindle eBooks "How to Hunt Deer Like a Pro," "How to Hunt Deer Up Close: With Bows, Rifles, Muzzleloaders and Crossbows," and "PhD Whitetails: How to Hunt and Take the Smartest Deer on Any Property," or to prepare venison, get "Deer & Fixings."  "Click here to get these books."
About the Author
John Phillips, winner of the 2012 Homer Circle Fishing Award for outstanding fishing writer by the American Sportfishing Association (ASA) and the Professional Outdoor Media Association (POMA), the 2008 Crossbow Communicator of the year and the 2007 Legendary Communicator chosen for induction into the National Fresh Water Hall of Fame, is a freelance writer (over 6,000 magazine articles for about 100 magazines and several thousand newspaper columns published), magazine editor, photographer for print media as well as industry catalogues (over 25,000 photos published), lecturer, outdoor consultant, marketing consultant, book author and daily internet content provider with an overview of the outdoors. Click here for more information and a list of all the books available from John E. Phillips.