John's Note: Ernie Calandrelli of Orchard Park, New York has been shooting PSE bows www.psearchery.com for 30-plus years, is a member of the Mossy Oak Pro Staff www.mossyoak.com and Director of Publications and Advertising for Quaker Boy Calls www.quakerboy.com. In 2014, he's shooting the PSE DNA because he likes the speed the bow delivers, the forgiveness of this bow and the ease with which he can draw it.
The real secret to consistently taking older-age-class bucks is to put your tree stand within 30 yards of where you think those bucks will walk.
The second consideration for the right spot to hunt, is, can I get into that tree stand location with a favorable wind, without the deer seeing or hearing me? I'm often asked how you find the best place to put your tree stand. I think bowhunters need to look at the area they hunt and determine what the deer are feeding on at that time of year, what phase of rut are the bucks in, and where the deer are feeding and bedding. Those elements will most likely help you predict where an older-age-class buck will be moving. Then, you must put out trail cameras to verify that an older-age-class buck is actually moving in the areas you've selected to hunt and is walking through your potential stand site during daylight hours.
One of the deer signs that I key on heavily are scrapes and rubs. I always want to have another place to go, if the bucks don't show up where I've thought they will. Even though bucks are highly patternable, they seldom do what they're supposed to do every day – just like humans. Most men go to work the same way every day, however, every now and then they may decide, "I believe I'll get me a cup of coffee today. I've only got to go 2 blocks off my route to get a really good cup of coffee." Even though a buck may follow the same route every day at about the same time, many things can cause him to vary from that route or to take a different route on the day or days you're hunting.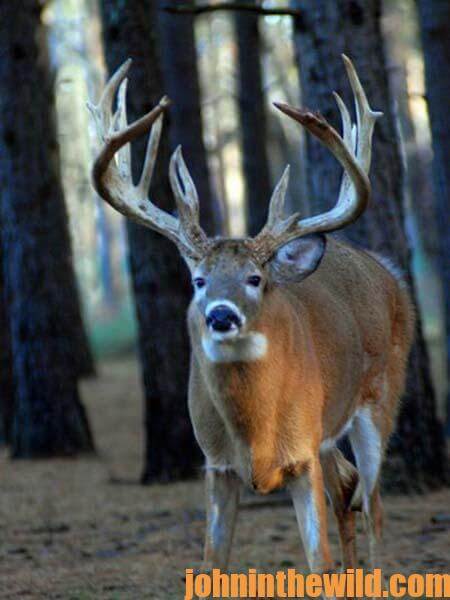 Like you, I only have a certain number of days that I can hunt at any destination. If I don't see the size and the number of bucks I expect to at one stand site, then I already want to have another stand site picked out, with my tree stand already hung where I can move. Having multiple tree stand sites gives you the opportunity to move from an area where there's not much deer activity to another region with more deer activity, so I always want another place where I can go and find deer moving. I guess one of the strategies that I use is, don't stay long where you're not seeing deer. If I remain in a stand all day long and don't see anything, I won't be in that same stand the next day. If I'm not seeing deer, I'll probably get more aggressive with my calling before I move.
For more deer-hunting tips, get John E. Phillips' Kindle eBooks "How to Hunt Deer Like a Pro," "How to Hunt Deer Up Close: With Bows, Rifles, Muzzleloaders and Crossbows," and "PhD Whitetails: How to Hunt and Take the Smartest Deer on Any Property," or to prepare venison, get "Deer & Fixings." "Click here to get these books."
Share this page with a friend!
About the Author
John Phillips, winner of the 2012 Homer Circle Fishing Award for outstanding fishing writer by the American Sportfishing Association (ASA) and the Professional Outdoor Media Association (POMA), the 2008 Crossbow Communicator of the year and the 2007 Legendary Communicator chosen for induction into the National Fresh Water Hall of Fame, is a freelance writer (over 6,000 magazine articles for about 100 magazines and several thousand newspaper columns published), magazine editor, photographer for print media as well as industry catalogues (over 25,000 photos published), lecturer, outdoor consultant, marketing consultant, book author and daily internet content provider with an overview of the outdoors. Click here for more information and a list of all the books available from John E. Phillips.