John's Note: Two ways of bagging a buck include luck, which is a factor that a majority of hunters in many areas depend on solely, and experience – knowing the deer, his movement patterns, his behavior patterns and what causes him to move from one place to another. Being able to predict deer movement is an important trait of the hunter who bags a buck year after year. Very-little guesswork is involved in this type of hunting. The sportsman takes a set of given facts, studies the terrain, the available food, the deer's mating habits and the weather in his region, correlates them with deer sign he finds where he's hunting and comes-up with a hunt plan that logically will put him in a position to see and hopefully bag a deer on any given day he hunts.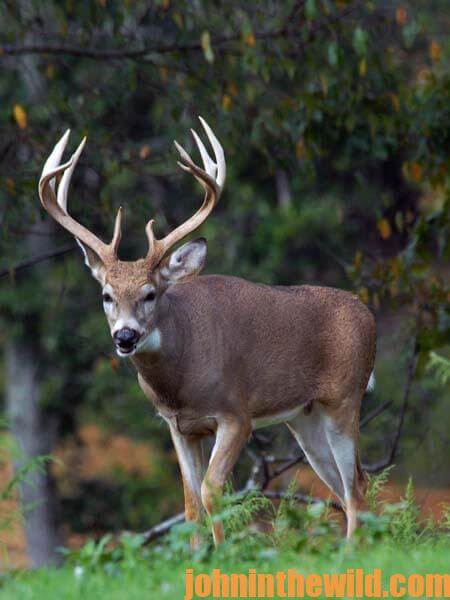 Mark Drury of Saint Peters, Missouri, the founder of MAD Calls, co-owner of Drury Outdoor Productions with his brother Terry and a long-time avid bowhunter, who also is a member of PSE and Mossy Oak's Pro Hunt Teams, says, "I start hunting a buck in July when the buck's antlers are just beginning to develop. One of the secrets to consistently taking bucks is knowing which green fields bucks are coming to, and which green fields does prefer. I plant BioLogic in the spring, so I'll have summer green fields where the deer can feed. I go to these fields in July to identify the trails the deer are using to come into those green fields and put motion-sensor cameras along these trails to get pictures of the bucks coming to the green fields. Then I know which green fields each buck is utilizing. Trail-monitoring cameras enable a hunter to find big bucks, and to know where they're moving quickly and easily and what time of the day or night they're moving and how big the deer are. Even when I'm scouting, I wear camouflage. You must know when to go to the cameras. During the summer months, the deer will move very little. I've learned I usually won't get more than four or five pictures of deer per day on a good trail during July and August. Another big advantage this method of scouting gives me is that I'm scouting every day from 10- or 20-different locations and not leaving any human scent in those regions. I'm not pressuring the deer that I plan to hunt in the fall during the summer months. In addition to wearing camouflage clothing, I usually wear a head net and gloves when visiting my cameras. I want to get to the cameras as quickly and as quietly as possible, leave as little human odor I can and be invisible to the deer.
"I like to actually see the deer, especially the bucks I'll be hunting in the fall, besides using my trail-timer cameras. But once again, I want to see the buck from a distance and not disturb him by getting too close. I've learned from my motion-sensor cameras that the first 10 days of a full moon is when I'll see the most big bucks coming to a green field late in the afternoon. I'll take advantage of the deer's reaction to the phases of the moon during the summer months, just as much as I do during the fall and winter months. I want to see the bucks on the green field to try and determine their personalities and their temperaments. Some bucks will be very bold, while other bucks will be very skittish. Some bucks will walk right out in the middle of a green field, while other bucks will hold on the edge. By being able to study the bucks through binoculars or spotting scopes from a long distance, I can learn the personality of each buck. If you're going to go to a green field and study the bucks, you'll want to go to that field when the most bucks will be on it. I've learned that not only most of the bucks, but more importantly most of the big bucks that are using a green field will be out in that green field early in the afternoon for 10 days after a full moon.
"That's when I begin to pick the bucks I want to hunt from the motion-sensor-camera information and from observing the deer in the field. The bucks I'll try to hunt aren't always going to be the biggest bucks I see. The secret is determining from the bucks you have identified which bucks appear on the trails the most often during daylight hours. Some bucks have a tendency not to move until after dark. If you attempt to hunt these bucks, you can hunt several days and not see those bucks during daylight hours. However, if you hunt for the bucks that have a tendency to move-down trails and be in the green fields during daylight hours, you drastically increase your odds for taking a buck during the first week of bow season. Once I identify these bucks, I may move some of the cameras and my tree stand to learn all I can about these individual bucks I've decided to hunt. Knowing which bucks move during daylight hours gives me a tremendous advantage when hunting season opens. I can learn which bucks move the most during daylight hours by scouting during the summer using binoculars, spotting scopes and motion-sensor cameras without spending much time in the woods and alerting or spooking the deer."
Most often the deer will prefer to enter a field from either corners of the field that back into the woods or from the region that seems to funnel back into the woods. The best way to scout a field is right after rain. Then the tracks will be fresh, and you can pick the places with the most deer movement that reveal tracks going both ways. This tactic will work during the first few weeks of bow season usually – depending on hunting pressure – because deer will pattern pretty much the same way day after day, if they don't have many without a lot of hunter encounters. Besides a cornfield, this tactic works on any type of food source that you identify early in the season. During those first 2 weeks of the season, you can hunt right next to the food source.
To learn more about deer hunting, you can get John E. Phillips' Kindle eBooks, "How to Hunt and Take Big Buck Deer on Small Properties," (John's latest book), "How to Hunt Deer Up Close: With Bows, Rifles, Muzzleloaders and Crossbows," "PhD Whitetails: How to Hunt and Take the Smartest Deer on Any Property," "How to Take Monster Bucks," and "How to Hunt Deer Like a Pro," or to prepare venison, get "Deer & Fixings." Click here to get these books.
Share this page with a friend!
About the Author
John Phillips, winner of the 2012 Homer Circle Fishing Award for outstanding fishing writer by the American Sportfishing Association (ASA) and the Professional Outdoor Media Association (POMA), the 2008 Crossbow Communicator of the year and the 2007 Legendary Communicator chosen for induction into the National Fresh Water Hall of Fame, is a freelance writer (over 6,000 magazine articles for about 100 magazines and several thousand newspaper columns published), magazine editor, photographer for print media as well as industry catalogues (over 25,000 photos published), lecturer, outdoor consultant, marketing consultant, book author and daily internet content provider with an overview of the outdoors. Click here for more information and a list of all the books available from John E. Phillips.