Editor's Note: A couple of weeks ago I went out and spent several days photographing wild deer. The rut just had kicked in, which allowed me to learn new things about hunting the rut that I never knew previously. This week, I'll share what I've learned and have seen to help you become a better rutting deer hunter.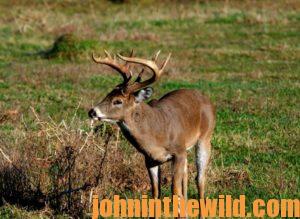 One of the reasons I enjoy hunting and photographing deer during the rut is that I can meet a lot of old friends. I named the buck in this picture Dodger. I met Dodger several years ago, and I wondered then how long he would survive. His left leg always had a big scab on it just above his left hoof, and he had scars further up his leg too. He was a mature buck, he was in the rut, and he had a nice set of antlers. The first time I saw Dodger I thought the injury to his left leg would be the death of him. That big scab over that left leg was there ever since I first spotted him. I only could speculate about how he got that identifying injury that allowed me to keep up with him through the years. Some believed he was injured in a fight during the rut, while others thought he might have been shot at and wounded by a bullet or an arrow. Whatever caused this injury to this buck, he was very identifiable, and I generally could find him during the rut. I called him Dodger because he'd dodged death for several years. Even though I didn't find him chasing a doe or fighting with other bucks, I believed ole' Dodger was just happy to be alive and able to get up and go. 
One of the best ways to keep up with bucks on the property you hunt is to look for identifiable scars or coloration or rack characteristics. Many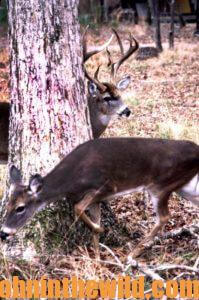 times, the number of points, the width of the antlers and the lengths of the tines on individual bucks will change from season to season. However, if you can determine what makes young bucks special and easy to identify, you can watch these bucks grow over the years. Then once they become mature with heavy racks and big bodies, you can take them and allow the younger bucks on your property continue to grow and mature. Something else I've learned about Dodger is that he has learned to avoid conflict – probably since he doesn't have the same drive to breed like other bucks. When there's a chance for conflict, he'll leave the field. He may talk a little trash before he leaves the playing field, but he's gotten too old and too tired to fight over the issues of breeding. If he sees a bigger deer coming, rather than challenging that buck, he'll back off or move away from that younger buck and survive.
One of my friends told me after he'd harvested a buck he'd been hunting for three years and had trail-camera pictures of, "When I finally took the Monster, I sat down and cried for many reasons. Number one, I had come to know and learned to understand the ways of the Monster. I felt a kinship to him. After I'd taken him, I knew that my days of hunting the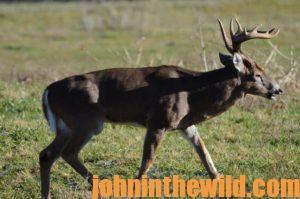 Monster and my encounters with this deer were over. I was also crying because I had hunted this deer during bad weather, good weather, freezing weather and rainy weather, and there was a tremendous release of excitement and pride at having taken this big buck. I cried with joy too – all my dreams of the Monster and having the opportunity to take a buck like this had come true. I didn't really mean to cry, and for a while I wondered why I cried. Then I realized that everything that had happened between me and the Monster, the days we had shared in the woods, and the urge I had fought to take him in his younger ages made him a real, true trophy." 
I've interviewed hunters through the years who have taken trophy deer, and many have expressed the same kind of emotion like this hunter did. Oftentimes if they didn't cry, they might have a huge shot of adrenaline that let them know for certain that they needed to sit a while before they came out of their ground blinds or tree stands. The emotion, the excitement and the joy that those hunters felt lasted for the rest of their lives. They continued to hunt hard, pass up young bucks and let certain bucks survive to maturity. They also dreamed of the day, in the future, when they would have the opportunity to take a trophy buck again during the rut.
To learn more about hunting deer, check out John E. Phillips' book, available in Kindle, print versions and Audible, "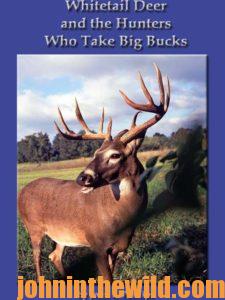 ," (http://amzn.to/2bYwYOK). You may have to copy and paste this link into your browser. (When you click on this book, notice on the left where Amazon says you can read 10% of this book for free, and you can hear 10% for free).
John E. Phillips has published several more books this fall and winter of 2020 you'll enjoy.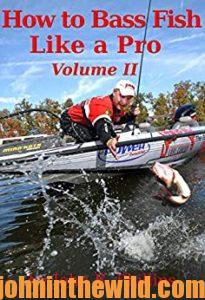 1) "How to Bass Fish Like a Pro, Volume II" – available in Kindle and print at https://www.amazon.com/gp/product/B08LBD7M4G/ref=dbs_a_def_rwt_hsch_vapi_taft_p5_i2
In "How to Bass Fish Like a Pro, Volume II," you'll learn tips and tactics from 21+ Bassmaster Classic winners, two Major League Fishing champions and 20+ Bassmaster Anglers of the Year about some of the dramatic changes in bass fishing.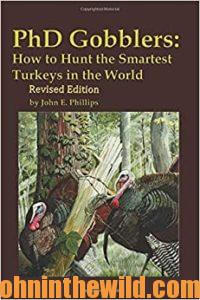 2) "PhD Gobblers: How to Hunt the Smartest Turkeys in the World, Revised Edition" – available in Kindle, Print and Audible at https://www.amazon.com/gp/product/B083V83RLG/ref=dbs_a_def_rwt_hsch_vapi_taft_p4_i8
Turkeys that have earned their PhDs in the turkey-hunting wars know more about hunter-dodging than most hunters know about turkey hunting. These turkeys have built such a huge database on humans they've earned their PhDs.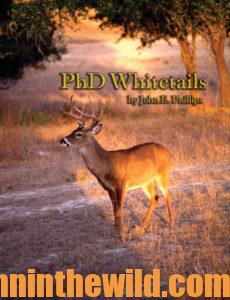 3) "PhD Whitetails" – available in Kindle and Print and soon to be in Audible at https://www.amazon.com/gp/product/1979793387/ref=dbs_a_def_rwt_hsch_vapi_taft_p7_i3
To become a "PhD Whitetail," a whitetail deer has to have gone to school on hunters. He knows when to move, where to move, and how to move to avoid detection. The professional hunters in this book have spent their lifetimes finding these bucks with doctorates.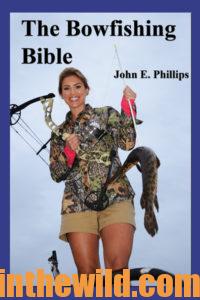 4) "The Bowfishing Bible" – available in Kindle, Print and Audible at 
https://www.amazon.com/gp/product/B01D566HM0/ref=dbs_a_def_rwt_hsch_vapi_taft_p4_i1
This book doesn't promise salvation or a ticket to heaven, but it does give you much of the information you need to be a happy, successful, productive and winning bowfisherman.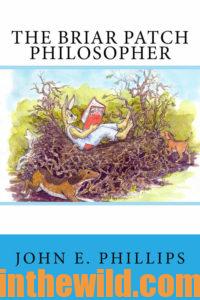 5) "The Briar Patch Philosopher" – available in Kindle, Print and Audible at https://www.amazon.com/gp/product/B00MX0ZODI/ref=dbs_a_def_rwt_hsch_vapi_taft_p5_i4
Some of the reviews for this book include statements like, "I find myself looking through these wonderful thoughts about life, courage, love, children and God. This collection of sayings are very useful in helping me control my emotions. Some of my favorites include:
"Feelings change, Truth remains."
"Embrace fear, because it's an excellent motivator."
"Life is a race. The beginning, we can't control, and the end can't be determined. But how well we run in the middle is all that counts. "