Editor's Note: Year after year Weiss Lake (http://www.lakeweiss.info/) on the Georgia/Alabama border in the northern section of both states is one of the top-crappie producing lakes in the nation. This lake is relatively shallow and is nourished by three different river systems that make up Weiss Lake – the Coosa, the Little River and the Chattooga River. Darrell Baker fishes all three of these underwater, invisible rivers. He also guides on Neely Henry, which forms the headwaters of the Coosa River. Baker has been fishing Weiss Lake for 40+ years and has been guiding on the lake for almost two decades. Although Weiss Lake is recognized as one of this country's greatest crappie lakes, the Coosa River that comes out of Weiss Lake also has a tremendous population of crappie in it.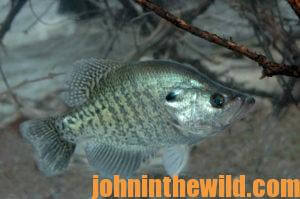 * Late February-Mid-April:
We consider our spring crappie fishing at Lake Weiss from late February through April. Our best tactics seem to be long-line trolling. We'll move out of the main river and into the creeks like Shoal Creek and Canoe Creek, because the crappie will start moving out of the river and be headed to the backs of creeks and coves to spawn as the water temperature rises. The more the water warms-up, the closer the crappie will be to the back ends of these creeks and coves.
When we long troll, we'll put two B'n'M poles (https://www.bnmpoles.com/) out the front of the boat. Then I'll have a 10-foot rod coming off each side of the boat and run 7-1/2-foot rods out of the back of the boat. So, each time we go up or down the creek, our jigs will be covering about 30 feet of water from one side of the boat to the other. I'll put my poles in my Driftmaster rod holders (http://www.driftmaster.com/Rodholders.html). I'll have Gamma 6-pound test line on my reels and fish with jigs as small as 1/32-ounce to 1/8-ounce jig. But most of the jigs I have out will be 1/24-ounce jigs. I'll set my trolling motor to push the boat at either 0.7 mph or 0.8 mph. If I have 50 feet of line out on each rod, the jigs will be running in 6 – 9 feet of water. I've found that a blue/chartreuse or a black-and-blue/chartreuse seem to be my two best colors on the Coosa River chain of lakes (Weiss and Neely Henry) at any given time. If the water is stained, and there's cloud cover, I usually will be pulling dark colors like black, blue and Junebug. When I'm fishing in clear water and have bright, sunny days, I'll use lighter colors like acid rain or the wildcat color for lures made by Southern Pro (http://www.southernpro.com/).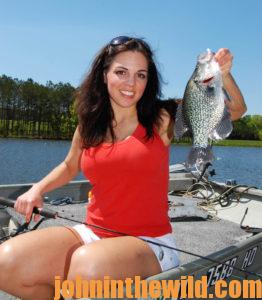 * Mid-April through May:
I'll be shooting docks these two months. I'll be using a 5-1/2-foot B'n'M SharpShooter rod
(https://www.bnmpoles.com/) and Gamma 6-pound-test High Vis line (https://gammafishing.com/). Many times, I won't feel the bite, but because this line is so bright, I can see the line twitch when a crappie takes the jig. I like a 1/24-ounce jig, and that's the primary size with which I shoot docks. My favorite jig body is a black-and-red Stinger Shad. My favorite docks are old docks and big platform-type docks that sit low to the water. Those docks provide a lot of shade where the crappie can hold. I don't seem to catch as many crappie under newer docks that may be a year to two years old, as I do under docks that are 10-years old or older. This pattern will hold-up usually until the end of May.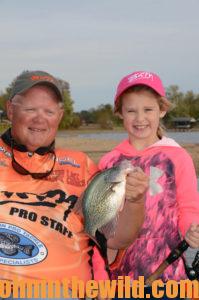 You can contact Darrell Baker, at (https://www.weisslakecrappieguides.com/), email him at [email protected], or on his cell phone at 256-557-0129.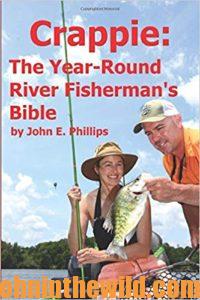 To learn more about crappie fishing, check out John E. Phillips' book, "Crappie: The Year-Round River Fisherman's Bible" at https://www.amazon.com/gp/product/B07YDXB4G9/ref=dbs_a_def_rwt_hsch_vapi_taft_p2_i5
available in Kindle, print and Audible. You may have to cut and paste this link into your browser. (When you click on this book, notice on the left where Amazon says you can read 10% of this book for free and hear 10% for free).
Tomorrow: How to Fish for Crappie from May–December with Darrell Baker