Editor's Note: Year after year Weiss Lake (http://www.lakeweiss.info/) on the Georgia/Alabama border in the northern section of both states is one of the top-crappie producing lakes in the nation. This lake is relatively shallow and is nourished by three different river systems that make up Weiss Lake – the Coosa, the Little River and the Chattooga River. Darrell Baker fishes all three of these underwater, invisible rivers. He also guides on Neely Henry, which forms the headwaters of the Coosa River. Baker has been fishing Weiss Lake for 40+ years and has been guiding on the lake for almost two decades. Although Weiss Lake is recognized as one of this country's greatest crappie lakes, the Coosa River that comes out of Weiss Lake also has a tremendous population of crappie in it.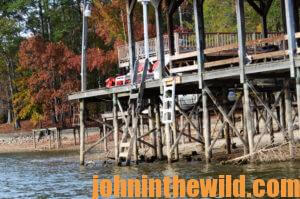 From the end of May until October, the time you fish for crappie is more important than where you fish. The best time to catch fish during these months is from that first glow of light early in the morning before the sun comes-up until about 9:00 am. I've found that the best way to catch crappie at this time of the year is to fish live minnows vertically right down in brush tops and be patient. These crappie are looking for an easy meal that they don't have to chase. The higher the sun climbs in the sky, the lighter the bite will get.
I'm using a B'n'M 10-foot jig pole (https://www.bnmpoles.com/) when I'm fishing vertically in brush tops. I also will be fishing with 10-pound-test line instead of 6-pound-test when I'm fishing in that brush top. I'll put a snelled hook about 10 inches from the end of the line and a 1/2- to 3/4-ounce bell sinker on the end of the line. I don't move my minnow much. I let the bell sinker hit the bottom, take about one turn on my reel and hold the rod as still as I possibly can. If I move the rod at all to raise or lower my bait in the water, I'll move the rod very slowly – only about 1-2 inches up at a time. I'll shake my rod tip when I stop the bait again. Usually I'm using a #1 or # 2 red bleeding bait Tru Turn crappie hook (https://ttiblakemore.com/order/product/tru-turn-hooks-hook) and a minnow that's 2 to 2-1/2 inches long. I don't want a giant minnow or a really small minnow for hot-weather fishing.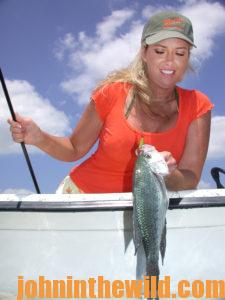 Most of the time in the mornings, I'll be fishing in 8-10 feet of water, but as the sun comes up, I'll probably move out to 16-18 foot of water. In the late summer, I may fish shallower than I do in early summer, depending on where the thermocline is. I really want to be fishing in the most oxygen-rich water I can find.
Summer crappie aren't usually as big as those fish in the spring and fall. During the prespawn, the crappie are big and healthy, getting ready for the spawn. In the summer, they don't eat as much as they do at other times of the year. So, they'll be somewhat thinner and aren't carrying the eggs like they are in the prespawn and the spawn. I suggest to my customers that they only plan to fish a half a day or have a 4-hour trip because that's when the bite will be the best, and the weather the coolest. We usually catch and keep about 10 to 15 crappie per person and will catch most of our fish right at daylight in the summer.
I also like to have current when I'm fishing in the summertime – but not much current. If the power plant is only running about one turbine, then we usually can fish and catch crappie. But if more than one unit (turbine) runs, the current will be so strong you can't keep your bait down. When the Coosa River has a lot of current running, you have to go back up in the creeks and coves where the current won't affect your baits or the fish nearly as much. If I can fish out in the middle of Canoe Creek, the current there won't be nearly as strong, because I'm about a mile from the main river. When I move up into the creeks, I try to fish in front of old boat houses, docks and piers, because most people will have brush sunk out in front of those structures. I'll look for brush piles in 10 to 12 feet of water. I will vertical fish those spots until they stop running so much current, and then I'll return to the main river channel.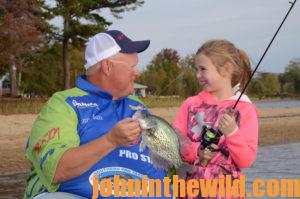 * End of September–December:
From the end of September through December primarily makes up the fall and winter months at Weiss and Neely Henry lakes. I will start out in October shooting docks or spider rigging (slow trolling) with minnows. Early in October, I prefer to shoot docks on Neely Henry. If my party is staying in town, I'll try and meet them in the afternoon or the night before we're planning to fish. I'll teach them how to shoot a dock. If instead they're meeting me at the boat ramp that morning, the first thing I'll do is pull out into the river and teach them how to shoot docks. Usually a few minutes is all that's required for people to get comfortable with the technique of shooting docks. Then I'll take them to my first set of docks – usually docks higher up off the water and easier to shoot. This way they'll have a great chance of catching crappie. Generally you can shoot a dock about 4 feet off the water instead of a dock that may be only a foot off the water. I'll let them build-up confidence shooting those easy docks first and then take them to docks that are lower.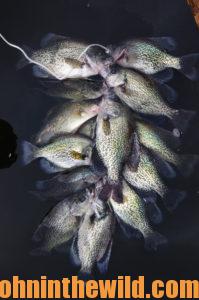 By the time we get into November, the weather starts cooling down, and the water temperature is dropping. Then the crappie will pull off the docks and move out to deeper water. We'll start spider rigging on the main river channel. Most of the time when the water temperature gets below 50 degrees, the crappie will move away from the docks and out to the main river channel. I'll use my electronics to find the river-channel edges or any drop-offs in 10 – 12 feet of water. But if we're not catching crappie I'll move on down the ledge into deeper water and look for brush. If I find crappie in 16 feet of water, holding on brush after we catch those crappie, I'll continue to move down the ledge and search for brush. When I locate the brush, usually crappie will be at that same depth of water holding on another brush pile. If current starts getting pulled through the dam, oftentimes those crappie will move off the brush, or if the water temperature heats-up, they will move. However, I have found that most of the time once I locate brush in a certain water depth on the edge of a river channel, and crappie are holding there, I can pinpoint more crappie in that same depth on other brush piles. You can run that kind of pattern all the way through December.
You can contact Darrell Baker, at (https://www.weisslakecrappieguides.com/), com, email him at [email protected], or on his cell phone at 256-557-0129.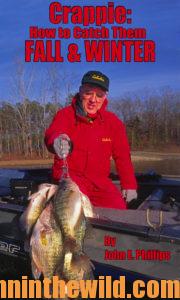 To learn more about crappie fishing in the fall and winter, check out John E. Phillips' book, "Crappie: How to Catch Them Fall & Winter," available in Kindle, print and Audible at https://www.amazon.com/gp/product/B00GDP0W2C/ref=dbs_a_def_rwt_hsch_vapi_taft_p1_i3.
You may have to cut and paste this link into your browser. (When you click on this book, notice on the left where Amazon says you can read 10% of this book for free and hear 10% for free).