Editor's Note: Even the experts can't agree on what's best. But perhaps I can help you make up your own minds of to move or not to move on turkeys? That's the question. Many of us who hunt turkeys fail to come up with the right answer. About 80% of the mistakes made when turkey hunting occur when you either move too soon or don't move soon enough. Here's a look at two of the nation's best turkey hunters who have different styles of hunting. Let's see if we can learn when to move and when not to move on toms.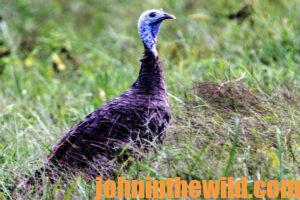 Dale Faust and I were hunting three gobblers one morning, near Liberty, Mississippi. I'd already taken one tom (see Day 1). Faust was convinced that we could call the other two birds back, and he could take one. The two gobblers had moved to their strutting ground on top of a nearby ridge. When Faust called, the two toms answered with gobbles. However, now these gobblers had hens with them. We could hear the hens yelping, cutting and cackling. As I told Faust we never would get those gobblers away from the hens, he explained, "We don't have to, John. I'm going to give up on attempting to call to the gobblers. Instead I'll call the hens. If we can pull the hens off the ridge, the longbeards will follow them."
After Faust gave some aggressive cuts and cackles, the toms and the hens answered. Then Faust told me, "We'll have to wait these turkeys out. If we give them enough time, I think we can get the gobblers to respond and come back down here."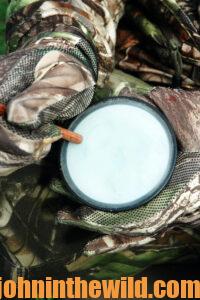 Usually I moved on turkeys in this situation, changed calling positions and calls and tried to make the gobblers come to another area. But Faust, who hadn't found success moving on turkeys, was convinced the odds were two to one against you any time you heard a turkey, and you made the decision to get up and move. According to Faust, "Our best chances to kill one of those gobblers is to pull them back to the place where they've been this morning."
The sun started climbing high in the sky at 10:15 am. Faust and I had been sitting in the same spot since before daylight. We already had been successful, but now we were trying to have a super hunt by bagging two gobblers under the same tree on the same morning without moving. As I thought about the magnitude of the feat we were attempting, Faust once again cutt and cackled like a demanding boss hen. Instantly his call was answered with cutts and cackles, which made Faust think he had the dominant hen's attention, as he cutt and cackled again.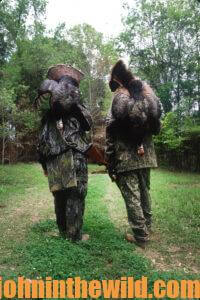 The war of calls went on between Faust and the dominant hen for about 10 minutes, as we heard the hen come closer and closer. "I see her," Faust whispered at the same time I spotted the blue head of the hen. While we watched, the boss hen, with eight more hens following behind her, came looking for us. Off in the distance we observed the white crown of a strutting, longbeard gobbler moving toward us. With the hens all around us, the wait for the tom seemed eternal. I even squinted my eyes to keep the hens from seeing the whites of them and being spooked. At times, we had hens within 6-10 feet of our blind, as the boss gobbler steadily came to where we were set-up.
When the longbeard stepped behind a tree 40-yards from us, Faust brought his 3-inch magnum to his knees and prepared for the shot. The turkey came to us until he was at 38 steps. Then he putted and craned his neck. He appeared not to like something about our blind. As I felt the tom was preparing to run, Faust's shotgun reported. The gobbler crumpled in a pile of feathers. On the way out of the woods that morning, I questioned Faust about when to move on turkeys.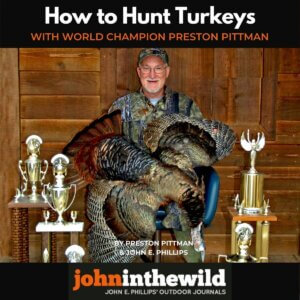 To learn more about hunting turkeys successfully, visit John E. Phillips' Amazon book page at https://www.amazon.com/John-E.-Phillips/e/B001HP7K6O. For even more information from top turkey hunters and callers, check out https://www.amazon.com/gp/product/B00CFP9V2Q/ref=dbs_a_def_rwt_hsch_vapi_taft_p1_i2
to see the book, "How to Hunt Turkeys with World Champion Preston Pittman," available in Kindle, print and Audible. You may have to copy and paste this link into your browser. (When you click on the book, notice on the left where Amazon says you can read and hear 10% of the book for free). On the right side of the page and below the offer for a free Audible trial, you can click on Buy the Audible book. You also can order "The 10 Sins of Turkey Hunting with Preston Pittman," available in Kindle at https://www.amazon.com/gp/product/B00D7NQFS8/ref=dbs_a_def_rwt_bibl_vppi_i10.
Tomorrow: Why to Stay Put for Turkeys