Editor's Note: Even the experts can't agree on what's best. But perhaps I can help you make up your own minds of to move or not to move on turkeys? That's the question. Many of us who hunt turkeys fail to come up with the right answer. About 80% of the mistakes made when turkey hunting occur when you either move too soon or don't move soon enough. Here's a look at two of the nation's best turkey hunters who have different styles of hunting. Let's see if we can learn when to move and when not to move on toms.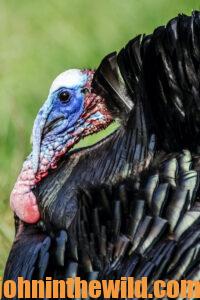 For some years, I went to Liberty, Mississippi, to hunt turkeys with Dale Faust, who now lives in Brewton, Alabama. Although Faust and I chased numbers of gobblers together for many years, each season I learned something new from Faust, who'd been on avid turkey hunter all his life.
One morning Faust had located several gobblers roosting across a small creek from us behind some thick cover. Faust told me, "These birds usually fly down into this open hardwood bottom and walk-up on the ridge in front of us to gobble and strut right after daylight. I believe if we take a stand here by this big chestnut oak, we'll get a gobbler and be gone before 8:00 am."
Just before daylight, Faust began to call, and three turkeys gobbled. As the sun slowly brightened up the sky and promised light for a new day, I heard the toms fly out of the trees and land on the dirt road just above us. Faust gave a few soft yelps and whispered, "Get ready."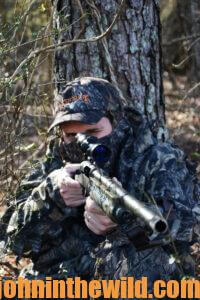 With my shotgun resting on my knee, I waited for the turkeys to appear. In less than five minutes, I saw the tri-colored heads of three longbeards bouncing down the road toward us. The gobblers were on the run to what they thought would be a hen ready to be bred. When the birds were at 20 yards, Faust clucked to stop the procession. As one of the toms stepped away from the group and craned his neck to see where the hen was, I fired.
"Don't move, don't move," Faust cautioned me urgently but quietly. "Stay very still." Instantly Faust started to cut and cackle like an excited hen. Although the other two gobblers were spooked, they only ran about 10-15 yards before they stopped, looked back and tried to determine what had happened.
"Shoot one of those other gobblers," I told Faust. For about 10 minutes, Faust and I argued about his taking a tom in soft, low voices to keep the toms from hearing us. Finally, when the two turkeys had walked off, Faust decided he would bag one of the gobblers – if he could call the bird back in to where we were set-up.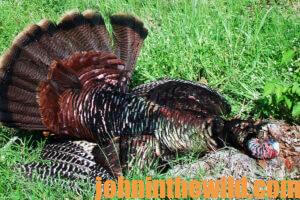 "How can you possibly hope to call a gobbler back to the same spot where he's seen his brother die?" I asked. Faust answered, "Since lightning often strikes in the woods, and turkeys are accustomed to hearing the loud clap of thunder and seeing the white flash of lightning, maybe if we don't move, those two gobblers never will know we've been here. I believe I can call at least one of them back."
Faust explained that one of the biggest mistakes turkey hunters could make was moving after they shot. "Often if you miss a bird, if you'll stay still, and the bird doesn't see you, you can call that same turkey back to you." But I hadn't missed. My gobbler was 20-yards away on the ground. When I brought this fact to Faust's attention, he answered, "I still believe I can call those turkeys back, if we'll just wait on them and spend some time hunting them."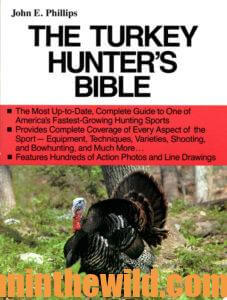 To learn more about hunting turkeys successfully, visit John E. Phillips' Amazon book page at https://www.amazon.com/John-E.-Phillips/e/B001HP7K6O. For even more information from many of the top turkey hunters and callers, check out the book, "Turkey Hunters' Bible," https://www.amazon.com/gp/product/B007HT1IUS/ref=dbs_a_def_rwt_hsch_vapi_taft_p2_i7
available in Kindle, print and Audible. You may have to copy and paste this link into your browser. (When you click on the book, notice on the left where Amazon says you can read and hear 10% of the book for free). On the right side of the page and below the offer for a free Audible trial, you can click on Buy the Audible book.
Tomorrow: Why to Learn Turkeys' Habits